A hungry would-be thief tried to make a getaway with a handful of cash but instead only got away with a mouthful full doughnuts from a Dunkin' Donuts in Queens earlier in the month, police say.
The would-be thief posed as a customer by ordering doughnuts and handing over cash to the employee at the Jamaica shop back on Nov. 5, according to the NYPD. When the worker opened the register to complete the purchase, the man jumped onto the counter with a knife and tried to take the money, police said.
The employee quickly slammed the register shut before the man could take any cash, officials said. Police say the bearded man who was last seen wearing a gray sweatshirt and a hat then fled the shop.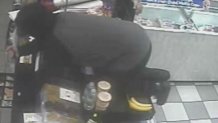 Video from the shop shows the man's epic fail at robbing the store. The video shows him jump the counter and pull a knife out of nowhere. When he realized he wasn't getting any cash, he grabbed the doughnuts he ordered and ran.
Investigators urge witnesses to call Crime Stoppers with tips that could lead to an arrest.
Top Tri-State News Photos