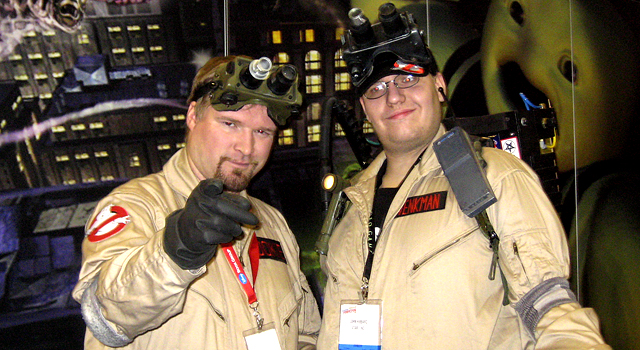 Running from a supervillain? Hide out at the Javits Center in Manhattan -- every hero you know is in the building.
Armed with samurai swords and the occasional shooting spider-web, thousands of comic-book crazies poured into the venue this weekend for Comic-Con, the cult festival that brings fans out of the woodwork each year for good-guy, bad-guy fun.
Comic-Con ticket holders get a chance each year at the event to meet their favorite authors and filmmakers, connect with other fans across the country, and test out new products, books and games being developed by industry insiders.
But the biggest Comic-Con attraction? The visitors themselves.
Neon wigs, face paint, fake blood and superhero costumes in tow, the most fanatic of the toon-heads turn themselves each year into their favorite characters.
Rick Bouwhuis, 36, trekked from Washington, D.C., to show his 'Star Wars' pride, arriving at the convention Saturday in his Jedi costume, brandishing a lightsaber.
"The story gives us something to believe it. It could really happen in the future," said Bouwhuis, who roamed through the convention hall with a placid Jedi expression glued to his face.
Ten-month-old Jackson Graham showed his love for 'Star Wars,' too -- dad John dressed the infant as Yoda.
"This is a family fun day," said Graham, who brought his three children from Pennsylvania to the convention.
There were hundreds of other teeny toon fans on hand for the party -- Sunday was Kids' Day at Comic-Con.
"The Hulk is my favorite," said Queens second-grader Lee Epps, 8. "He's the strongest, and beats everybody," Epps said with a confident grin.
Fans of more adult comics were treated at the convention to a buffet of their favorite scantily-clad heroines and a whole lot of blood and guts.
The gorier, the better was the motto for zombie activists Doug Sakmann and Autumn Eget, who covered their undead faces in a gooey splatter of red mush.
"We're here to promote zombie rights," said Sakmann, 28, who runs a zombie-appreciation club in Philadelphia.
Comic-Con visitors also got a sneak peek at upcoming feature films like "Watchmen," based on the hit comic book.
"It's just cool to be here," said Alyssa Harran, 20, a New Jersey student who dressed up as her favorite character from the comic "Naruto Shippuder."
"Where else can you have this much fun?"