What to Know
The fire broke out at a West Babylon junkyard around 3:30 p.m. and fire crews were still battling it more than an hour later
Firefighters were staging an exterior attack using tower ladders
No injuries were reported, but there's concern the black smoke from burning cars could be toxic
A pile of cars and shipping containers burst into flames at a Long Island junkyard on Friday afternoon, sending a cloud of black smoke towering over parts of the South Shore amid 90-degree weather.
Firefighters from the West Babylon Fire Department were still battling the fire at 5 p.m. after it broke out around 3:30 p.m. at Hesh's Recycling on Field Street in an industrial area about a mile east of Republic Airport, officials said. The recycling plant handles abandoned cars and metal.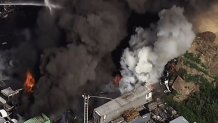 Smoke was visible from New York Harbor — more than 40 miles away — and was towering some 2,000 to 3,000 feet over West Babylon.
Tower ladders were seen erected along the sides of the fire as crews from West Babylon staged an exterior attack. Other fire departments were called in to help with the blaze, and it appeared crews were making headway shortly after 5 p.m., with less smoke visible overhead. The fire was under control by 6 p.m.
No injuries were reported, but there's concern the smoke could've been toxic because of the number of cars and shipping containers burned. Workers estimated that there were more than 100 cars in the yard, along with discarded pieces of metal.
The fire is under investigation. It wasn't immediately known what sparked the blaze.