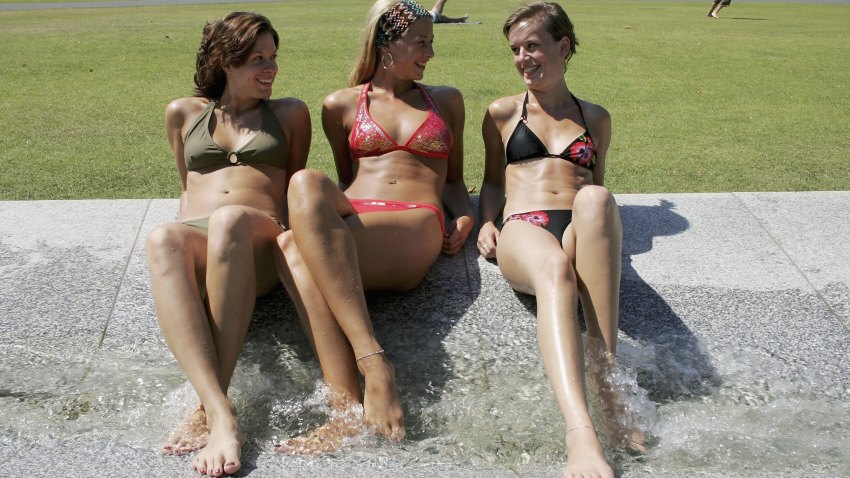 No one's denying that this July brought on the heat, but with the month finally over, weather experts are saying it wasn't hot enough to beat a record.
July 2010, with an average monthly temperature of 81.3 degrees, narrowly failed to beat the record for 'Hottest July in New York City' set in 1999. In that year, the average was 81.4 degrees -- so this July just missed out on the record by a measly tenth of a degree.
Even worse, this July's monthly temperature was 81.5 degrees up until July 30th, meaning it would've beaten the record by a tenth of a point. But one more day of (relatively) cool temperatures was enough to bring down the thermometer, the monthy average, and July 2010's pride. What a burn.
Meteorologists are disappointed, but most New Yorkers are grateful for the high-pressure system that swept across New England in the past week and ended the onslaught of 90- and 100-degree days.
With August still ahead of us and the temperatures expected to rise again this week, weather historian Stephen Fybish has words of comfort for our jilted July:
"We are quick to dismiss losers, even if it's a real close one...but we still have a good chance — if not guaranteed — for the warmest summer," Fybish told the New York Times. All we need is an average temperature of 76.1 degrees in August, he said.
And if that's not enough to raise your spirits (and your temperature), there's always next year.
"I don't think it's unbeatable," said Fybish of July 1999's record. "Given the general global warming trend and the tendency toward warmer nights to raise the overall averages, I would say we should come very close to this in no more than the next 10 years," he told the Times.
That's right, New Yorkers! If this summer wasn't hot enough for you then chill out. There's always next year.