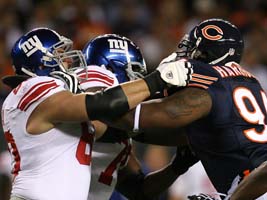 The leader of an illegal Georgia-to-New York gun ring, who in seven months sold 151 weapons to an undercover officer on a Brooklyn street corner, was sentenced Thursday to 18 years in state prison.
In all, Michael Quick, of LaGrange, Georgia, sold $126,000 worth of weapons — such as an AR-15 assault rifle and semiautomatic pistols, officials said. In one instance, he sold 25 firearms packed in a suitcase for $20,000, representing the biggest single illegal buy in the New York Police Department's history, officials said.
"This harsh prison sentence reflects our determination to bring to justice out-of-state firearms traffickers who use lax gun laws down south to flood our city with guns," Brooklyn District Attorney Ken Thompson said in a statement.
Four others charged in the conspiracy, including Quick's wife and other family members, have pleaded guilty to lesser charges. A sixth defendant's case is pending.
An attorney for Quick, who earlier this month pleaded guilty to weapons charges, didn't return messages Thursday.
Quick traveled 13 times by car up the I-95 corridor between September 2013 and April 2014 to sell handguns and other weapons either stolen or bought in Georgia stores to an undercover NYPD officer on a street corner in Brooklyn's Canarsie neighborhood, Thompson said.
The business was lucrative.
Quick marked up the price of handguns five-fold, selling a $200 9-mm bought in Georgia for $1,000 to the undercover in Brooklyn, Thompson said. And the average price of a handgun was $800, police officials said in announcing Quick's arrest last April.
The investigation was prompted by a tip from community members in Brooklyn, police have said.
Copyright AP - Associated Press