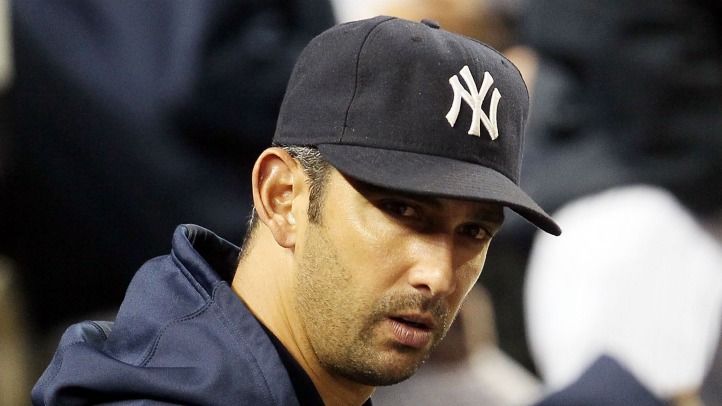 All's well that ends well.
You have to ask yourself where exactly William Shakespeare came up with the title for that play on Sunday morning. Thanks to Jorge Posada, it is very hard to see how anything ends well.
By now you surely know the story of what went down at Yankee Stadium on Saturday. Posada, batting .165 and lost at the plate, was dropped to ninth in the batting order by Joe Girardi and then asked out of the lineup before the game against the Red Sox.
There was talk of back stiffness, though not until after the game, and some ugly words thrown around between Posada and Brian Cashman about the way it was handled on both sides. Words like "insulted" and "disrespected" were thrown around to describe Posada's reaction to the lineup shuffle and, despite Girardi's efforts to defuse the situation, the ugliness will hang over the team for some time.
That's impossible to avoid when general managers give in-game press conferences and when proud champions give contradictory accounts of their thought process in the clubhouse. It is made all the worse when said player's wife sends tweets about the situation and when his father gives interviews from Puerto Rico.
Many will ask where Posada and the team go from here. The best guess is that Posada swallows his pride and accepts his fate while the team does the same and drops any pretense of trying to void Posada's contract or make some other drastic move at the moment.
That's for the best because even millionaire catchers nearing their 40th birthdays are entitled to having a bad day and a bad reaction to the inescapable truth of his diminished performance. The bigger question is what the Yankees are going to do when this happens again.
Not when it happens again with Posada, but when it happens with Derek Jeter, Mariano Rivera, Alex Rodriguez or any of the other well-paid stars who are going to be wearing pinstripes if or, more likely, when their talent slips. Saturday night was handled wrong by everyone other than Girardi, who did a fine job of not throwing Posada under a bus while also not absolving him of a monumentally selfish act.
It is hard to believe that there will be a lot of lessons learned by what went on, however. Pride and ego are huge on both sides which means that the inevitable question of dropping Jeter or the unthinkable moment that Rivera isn't the best option to close will give rise to similar messes in the years to come.
Sympathy for either side is difficult to muster. The Yankees are reaping what they sowed by giving big contracts and large roles to players on the downside of their career curve and those players are having an understandably hard time accepting that they aren't what they once were as players.
Saturday night feels like the start of a long, difficult period for the Yankees as they truly break ties with the dynastic group that brought so much glory to the Bronx. Things won't all fall apart immediately, but, for once, that might actually be a bad thing.
All's well that ends well?
If you say so, Willie, but we'll believe it when we actually see something end well.
Josh Alper is a writer living in New York City. You can follow him on Twitter and he is also a contributor to Pro Football Talk.
Copyright FREEL - NBC Local Media