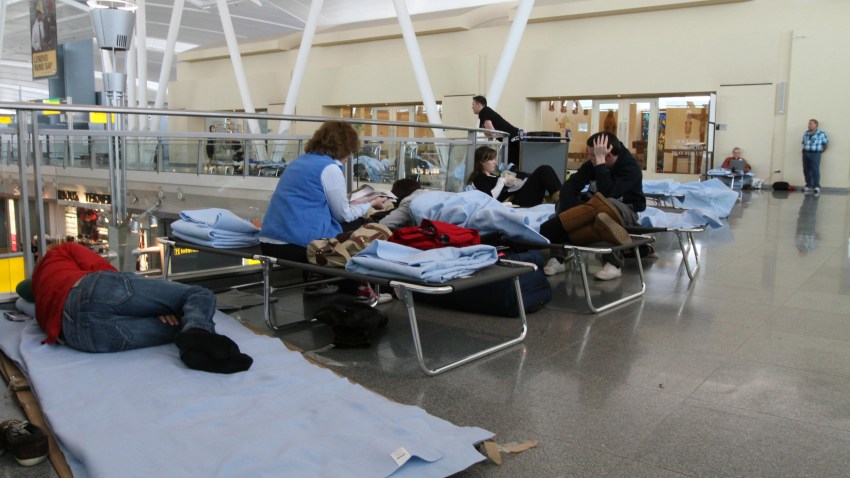 New York's Kennedy Airport continues to serve as a temporary encampment for travelers unable to get to Europe because of disruptions caused by a volcanic eruption in Iceland.

Rhiannon Thomas, of Birmingham, England, says "it's like a refugee camp."
Many Europe-bound fliers who were connecting through JFK Airport when the Icelandic volcano began its threat on Wednesday have been unable to get home, let alone access their checked luggage, leaving them frustrated, dirty and exhausted.
Britain's meteorological agency said that the eruption of Iceland's Eyjafjallajokull volcano was continuing as of early Sunday morning "and possibly intensifying," with the ash plume rising to 30,000 feet. The cloud has extended north to Ukraine and south to Spain.

Thomas' family spent the night at the airport Friday, and may yet be there for awhile. They haven't been able to schedule a flight home until Wednesday.

Thomas' mother, Pat, is looking at the bright side of things.

"At least we got beds. Some people slept on cardboard," she said.
Sue Homer, of Wiltshire, England says she has never wanted to get home and back to her job so much in her life.

A week in a New York City hotel can be prohibitively expensive and many travelers say they have no choice but sleep in the terminal.
Mayor Michael Bloomberg announced Friday that 15 percent discounts are being offered at more than 30 hotels for passengers who aren't able to get hotel vouchers through their airlines. The offer runs through April 19.

New York Airport Service and Go Airlink Shuttle will also extend 15 percent discounts for transportation to and from John F. Kennedy or Newark Liberty airports for affected passengers.

The New York Post reports that some scam artists have targeted the desperate and stranded travelers. In one incident,
a pair from the Czech Republic were approached by a stranger and offered a hotel room and transportation to get there -- all for $55.

When the two men arrived at the hotel, they found it fully booked and the stranger gone -- then they had to pay another $50 to get back to the airport, the Post said.

Meantime, at Newark International Airport, some passengers might not be able to get out until the end of the week -- more than 7 days after the eruption.
The delays caused by the volcanic cloud are already some of the most expensive in history. The disaster is estimated to be costing airlines $200 million a day, but the economic damage will roll through to farms, retail establishments and nearly any other business that depends on air cargo shipments. Fresh produce will spoil, and supermarkets in Europe, used to year-round supplies, will begin to run out, The New York Times reported.
Copyright AP - Associated Press