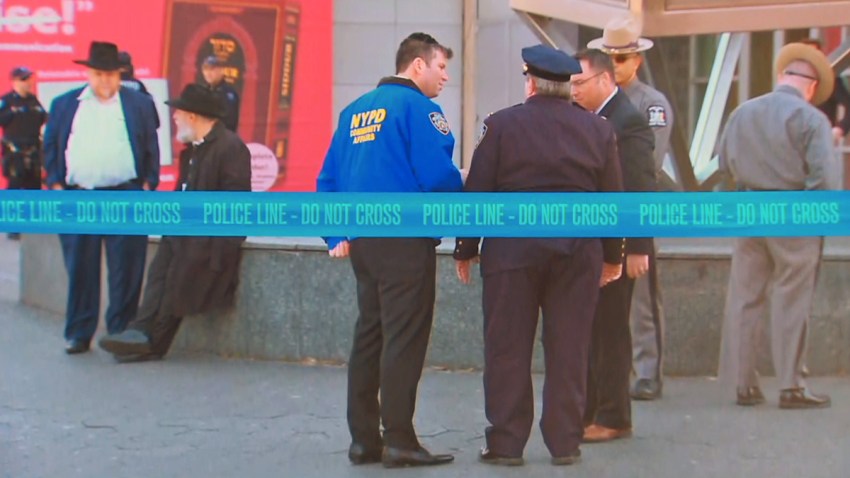 An evacuation was ordered at the Jewish Children's Museum in Brooklyn Thursday morning as police investigated a bomb threat, the latest in a string of threats targeting Jewish groups in the city and across the nation, officials said.

Police responded to the museum on Eastern Parkway after getting a call around 9:30 a.m. The nature of the call to police wasn't clear, but state Sen. Jesse Hamilton, who represents Crown Heights and other neighborhoods in the area, said the museum had received a bomb threat.

Gov. Cuomo also confirmed the threat, adding that it came via email. He spoke to reporters alongside Devorah Halberstam, the mother of Ari Halberstam, whose death at age 16 in a 1994 terror attack inspired the museum's creation. The museum is dedicated in his honor.

"This is a museum that is a monument to tolerance," Cuomo said, calling the threat "one of the cruelest ironies yet" in the rash of anti-Semitic crimes reported across the nation and in the city in recent months. "This was a museum that was built in the memory of Ari Halberstam. And Devorah, God bless her, took that pain and put it in a positive place by building a museum of tolerance, saying we all have to live together."

"Being a New Yorker means we accept everyone in the spirit of community and in the spirit of acceptance and in the spirit of tolerance," the governor added. "And these threats, these activities are repugnant to that very concept."

It wasn't known how many people were in the building at the time of the evacuation, but traffic delays were reported in the area as authorities investigated.

"It's suffering, very, very deep suffering as a parent to know that there are people out there that are so full of hatred and they can't let it go," said Devorah Halberstam, who marked the 13th anniversary of her son's death last week. "We all will stand together, and do stand together against these messages of evil and hate."

The evacuation comes two days after a series of bomb threats prompted evacuations of Jewish facilities across the country, including several in New York.
Authorities have been looking into more than 120 bomb threats called into nearly 100 JCC schools, child care and other similar facilities across the nation since January. No injuries have been reported in any of the cases and no devices have been found. The FBI is assisting in the probe.