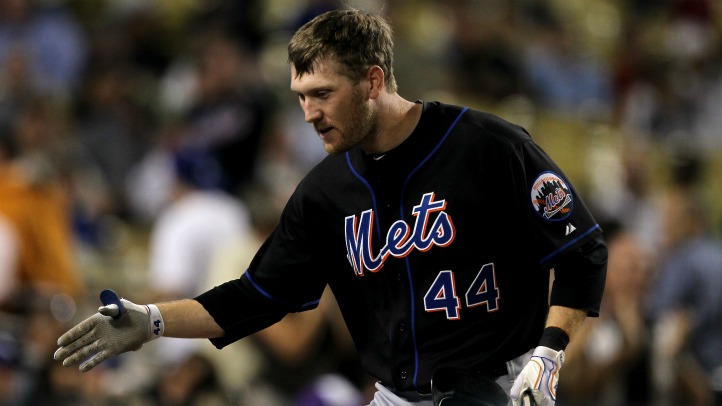 For most of this unexpectedly enjoyable Mets season, Jason Bay has primarily served as an object of comparison to point out all the positive things going on with the Mets.
"Look how well the Mets are doing even though they are carrying around that useless carcass wearing a uniform with number 44 on the back. If they had a left fielder who could hit better than the kid picked last during recess, they might actually do something."
"I know it is early in his tenure, but one thing I like about the Sandy Alderson era is that he'd never do something stupid like signing Jason Bay to a long-term deal. Winning teams don't give contracts like that to players who aren't elite."
That's probably better than being used as a target for used diapers and rotten fruit, but it still doesn't sound like all that much fun. Bay seems to agree because, after a brutal first year and a half as a Met, he has finally started to provide the team with something other than a chilling reminder of what happens when you let Omar Minaya make important decisions.
Bay homered twice on Wednesday night to provide all the offensive help that the pitching staff would need in a 6-0 win over the Dodgers. All by itself, a game like that by a player like Bay would be worth crowing about but the fact that it comes amid his first ever hot streak since coming to Beirut Queens.
He's got an eight-game hitting streak going on, during which he's hit .366 with three homers and 12 RBIs, including the game-winner on Sunday against the Yankees. He also started the ninth inning rally in that game by walking against Mariano Rivera and eventually scored on Ronny Paulino's single.
Since Bay cratered to a .207/.303/.273 line in the middle of June, he's actually been one of the better hitters in the Mets lineup. It doesn't seem to be totally unrelated that the Mets, two games over .500 for the year, have been three games on the happy side of par during that span.
Or maybe it is coincidental. The team is also 3-0 without Jose Reyes in the last three days, but no one is suggesting that he be permanently benched.
So much has been made about how awful Bay has been since joining the Mets that it is hard to remember that he's actually a good bet to produce offensively going forward.

His track record is strong and perhaps he is just now coming out of the double whammy caused by last year's concussion and this year's oblique injury.
It would have been nice to see this kind of production for the last 15 months, but that's the one nice thing about his extravagantly long contract. There's plenty of time for Bay to make up for the rough start if he keeps hitting like this.
Josh Alper is a writer living in New York City. You can follow him on Twitter and he is also a contributor to Pro Football Talk.
Copyright FREEL - NBC Local Media