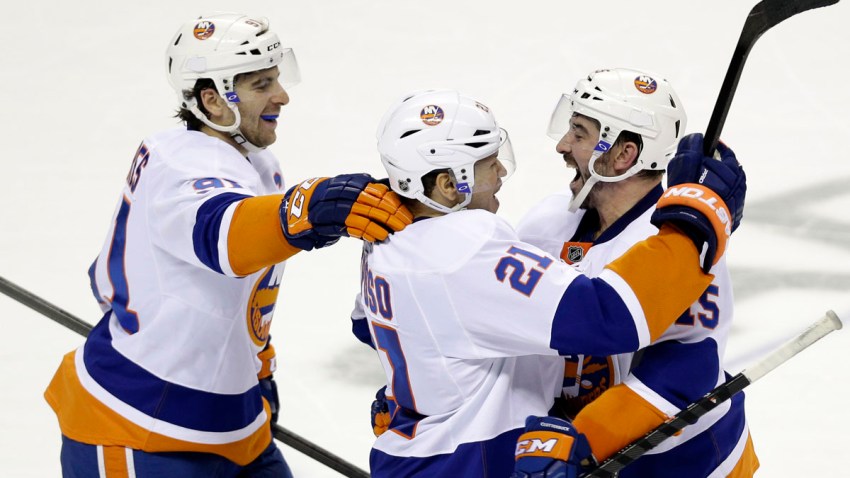 Kyle Okposo scored the tying goal with 1:37 left in regulation and got the game-winner in the fourth round of a shootout to help the Islanders snap a 10-game losing streak with a 3-2 victory over the San Jose Sharks on Tuesday night.
Thomas Vanek also scored in regulation and the shootout for the Islanders. Kevin Poulin made 46 saves and was outstanding early to keep the Islanders in the game until they broke through with two third-period goals. Then he stopped three of four attempts in the shootout despite appearing to injure himself on a pad save against Joe Pavelski in the first round.
Patrick Marleau and Pavelski scored for the Sharks, who blew a 2-0 lead and have lost four straight. Antti Niemi made 26 saves.
The Sharks seemed to be in control with a two-goal lead heading into the third, but the game changed after Vanek knocked in a rebound of John Tavares' shot in the opening minute of the period. The Islanders controlled the play for much of the rest of the period before getting the equalizer shortly after pulling Poulin for an extra skater.
Tavares cleanly won a faceoff from Pavelski, and Okposo fired a shot through a screen by Vanek that beat Niemi. The Islanders then snapped their skid in the shootout.
New York had also lost 10 straight road games in regulation since beating Ottawa 5-4 in a shootout on Nov. 1.
After being stopped on their first 23 shots by Poulin, the Sharks finally broke through early in the second when they got their fourth power play thanks to an after-the-whistle roughing penalty against Matt Carkner.
San Jose made the Islanders pay right away for that lack of discipline when Marleau got a rebound in the circle and shot it under a diving Poulin to make it 1-0. The Sharks had converted three of their previous 42 chances on the power play.
The Islanders, playing the back end of back-to-back games, got few chances and little luck. They finally got a power-play chance midway through the second period, but Vanek hit the post and the rebound skipped over Tavares' stick.
The Sharks added to the lead later in the period when Pavelski knocked a rebound of Dan Boyle's shot into an empty net for his 10th goal to make it 2-0.
The Sharks thoroughly dominated the opening period, outshooting the Islanders 18-3 and getting three power plays. They even had a two-man advantage after Eric Boulton and Travis Hamonic took consecutive delay-of-game penalties.
Despite all that, they couldn't get a single puck past Poulin. He robbed Marleau with a blind pad save during a delayed penalty for his best save and made five stops on the three power plays to keep the game scoreless after one.
Copyright AP - Associated Press