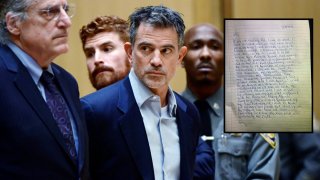 Lawyers for Fotis Dulos, who died on Thursday amid a criminal trial for the murder of his long-missing wife Jennifer, released what is believed to be a suicide note by their client. The hand-written letter is dated January 28, 2020, the same day he attempted to kill himself inside his garage at his Connecticut home.
Here is what the note said (note: NBC New York is redacting two names mentioned in the note who have not been part of the investigation or criminal trial):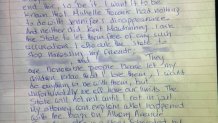 If you are reading this I am no more. I refuse to spend even an hour more in jail for something I had NOTHING to do with. Enough is enough. If it takes my head to end this, so be it. I want it to be known that Michelle Troconis had nothing to do with Jennifer's disappearance. And neither did Kent Mawhinney. I ask the State to let them free of any such accusations. I also ask the State to stop harassing my friends [redacted] and [redacted]. They are honorable people. Please let my children know that I love them, I would do anything to be with them, but unfortunately we all have our limits. The State will not rest until I rot in jail. My attorney can explain what happened with the bags on Albany Avenue. Everything else is a story fabricated by law enforcement. I want to thank all my family and friends that stood by me this difficult time. Able all [redacted] I am sorry for letting you down and not continuing the fight.
Fotis
The note came from Dulos' attorneys. The letter's authenticity has not been confirmed by Connecticut State Police or Farmington Police.
Dulos died at the Bronx's Jacobi Hospital on Thursday at 5:32 p.m.; he had spent about two days there, after first responders found him in medical distress inside the garage. He was initially transported to a Connecticut hospital before being airlifted to the New York City medical center.
Norm Pattis, the lead attorney for Dulos, told News 4 in an exclusive interview Friday that the legal team was "heartbroken" by the latest development.
"We promised we would protect him to the end when we couldn't protect him from himself," Pattis told News 4 Friday.
Jennifer Dulos' community and many national spectators presumed the apparent suicide attempt to be a clear indicator of a guilty conscience. To that, Pattis Thursday said simply, "We say, 'No," -- a contention he reiterated in an exclusive interview with News 4 on Friday.
"There was nowhere in the world where he could go without whispering, hateful comments being made about him," Pattis said. A day earlier, he described Fotis Dulos' potential suicidal motivation as being "a conscious overborne with the weight of a world that was too busy to listen, and it wanted a story more than it wanted the truth."
Dulos' organs were donated; burial plans have yet to be finalized but the body may be moved to his home country of Greece to avoid any potential desecration of his remains, Pattis said Friday.
The attorney was not only confident they would reach an acquittal as the trial continued, he vowed that should his motion fail in the lower courts, he would appeal all the way to the U.S. Supreme Court in his quest to clear his late client's name.