What to Know
The iconic iconic "mitzvah" bus found torched in Crown Heights earlier in the week was intentionally set on fire, police say
Authorities Thursday morning released new details and surveillance footage in the hopes of catching a man who they say lit it on fire
The bus, a symbol of Jewish pride in Brooklyn, was completely destroyed in the fire in Crown Heights, officials say
The iconic iconic "mitzvah" bus found torched in Brooklyn earlier in the week was intentionally set on fire, police say.
Authorities Thursday morning released new details and surveillance footage in the hopes of catching a man who they say lit it on fire.
The bus, a symbol of Jewish pride in Brooklyn, was completely destroyed in the fire in Crown Heights around midnight Monday, police said.
The man seen in the newly released surveillance video lit the bus on fire and took off down Troy Avenue towards East New York, according to the NYPD. He's seen in the video wearing a backwards hat.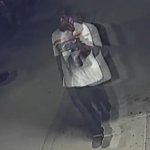 The repurposed school bus, decorated elaborately with religious imagery, was a prominent cultural fixture in the Brooklyn neighborhood.
The charred shell of the bus was all that remained on Monday.
Leviticus Schieber, the owner of the bus, used the vehicle as both an art studio and to transport his two daughters to school. He considers the vehicle a community message on wheels.
"It represents the Jewish spirit and sort of old-school Crown Heights," Schieber said.
The rolling art project has appeared in many New York parades, and most recently, it was featured in a music video by Benny Friedman, a popular Jewish entertainer, in his hit song "I'm Jew and I'm Proud."
Schieber frequently parked his bus on the street and had no concerns doing so, but he said he did find one of its tires slashed about a year and a half ago. He says it may have been targeted because it celebrates Jewish pride.
Top Tri-State News Photos