A woman who police say was angry about the price of medium-sized, convenience store iced coffee poured it all over the counter next to a "Make them smile" sign.
Cops on Long Island claim the woman, who was on a cellphone call, dumped one of her coffee drinks on the counter of a Mastic 7-Eleven when the employee told her how much she owed for the beverages.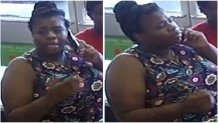 Video from the scene (above) shows the woman pour the drink all over the counter before calmly walking out of the store. Officials say she fled in a black GMC Yukon with New Jersey plates.
The woman's Aug. 30 morning squabble led to $200 worth of cigarettes being damaged, police said. Suffolk County Crime Stoppers urge witnesses to call them with tips. A $5,000 cash reward is being offered.
Top Tri-State News Photos