What to Know
Jose, currently a Category 1 hurricane, is expected to gradually weaken as it passes southeast of Long Island Wednesday
The system is expected to stay well offshore, but wind and surge impacts will still be felt Tuesday night into Wednesday evening
A coastal flood warning is in effect for parts of Brooklyn, Queens, Staten Island and northern New Jersey, Storm Team 4 says
Rising tides and whipping winds damaged a Jersey Shore fishing pier, flooded roads and stranded at least one driver as Hurricane Jose started churning toward the tri-state Tuesday.
In Middletown, New Jersey, police say they rescued a driver from the area of Broadway and Main Street Tuesday morning when he tried to drive through high water. His car ended up leaving the road and into a ditch, police said.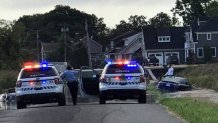 When officers arrived, they found the driver sitting on the roof of his car. He waded through the water to police, who transported him from the scene.
Manasquan officials also said some streets had minor flooding from the morning's high tide.
In Belmar, high waves lashed at the shore so fiercely they damaged a fishing pier that had been restored from Sandy damage in a half-million dollar project. Belmar Mayor Matthew Doherty says a support beam has detached and pilings were knocked loose in the morning waves.
Construction on the pier was completed in 2015 after it was destroyed by Superstorm Sandy. Stephanie Engelstad, business manager for the private club, says they will have to wait until the storm is over to review the new damage.
Police in communities along the shore said the storm was causing dangerous conditions in the water and reminded people not to go in.
On Long Island, the sound of Jose's overture was thundering in places like Westhampton's James Beach.
"It's a huge washing machine out there, tons of white water," said Westhampton resident Justin Lettier, who's hoping the storm keeps moving east.
"We've lived through a couple and have seen what it can do. And it's frightening," said Karen Lettier.
People in Montauk weren't too concerned, though. Sue Kravarik watched the pounding surf from the deck of her home, and she and her neighbors have tied down their outdoor furniture and umbrellas -- but they're used to wind gusts and will keep an eye on the storm.
Hurricane Jose is expected to stay out to sea but will still deliver punishing rains, rough surf, wind and beach erosion to the tri-state area. A tropical storm watch is in effect for the coast of Long Island from Fire Island inlet to Port Jefferson, and from New Haven, Connecticut, to Watch Hill, Rhode Island.
A coastal flood watch escalated to a warning for parts of Brooklyn, Queens, Staten Island and northern New Jersey from Tuesday evening to Wednesday afternoon. The coastal areas are expected to get the brunt of Jose's conditions.
Tracking Jose: Storm Team 4 Breaks Down Timeline, What to Expect
According to the National Hurricane's latest advisory, Jose is expected to make a turn to the northeast Tuesday night, when it will begin dumping up to 3 inches of rain on eastern Long Island and southeast Connecticut.
Jose, a Category 1 storm with maximum sustained winds of 75 mph, could bring 2 to locally 3 feet of surge above ground level in low-lying areas near the waterfront and shoreline during high tide, forecasters say. That could result in road closures and cause widespread flooding of parking lots, parks, lawns and homes and businesses with basements near the waterfront.
Jose is expected to pull away from the tri-state area Wednesday evening, though some models indicate it could loop back around, lingering offshore in the waters between Long Island and New Jersey, through the workweek. That would make for breezy conditions and high rip current risk for days, but no additional rain or damaging winds, according to Storm Team 4.
Meanwhile, the vicious Maria is swirling toward Irma-battered Puerto Rico, which could see a direct hit by a major hurricane for the first time in decades.
Maria strengthened to a Category 5 hurricane Monday as it bore down on the Caribbean. Early Tuesday it had maximum sustained winds of 160 mph.