What to Know
Jose, which was a Category 1 hurricane for several days, weakened to a tropical storm late Tuesday
A tropical storm watch remains in effect for the coast of Long Island as Jose churns northeast
The system is expected to stay well offshore, but wind and surge impacts will still be felt Tuesday night into Wednesday evening
Jose, the system that had been a Category 1 hurricane for several days as it worked its way up the east coast, has weakened to a tropical storm, forecasters say.
However, a tropical storm watch remains in effect for the coast of Long Island as Jose, which Storm Team 4 forecasts will stay out to sea, will still deliver punishing rains, rough surf, wind and beach erosion to the area.
The watch is in effect for the coast of Long Island from Fire Island inlet to Port Jefferson, meaning tropical storm conditions are possible in those areas within the next 24 to 36 hours. Forecasters continue to warn that dangerous surf and rip currents along the east coast will continue for several more days.

A coastal flood warning also remains in effect for parts of Brooklyn, Queens, Staten Island and northern New Jersey from Tuesday evening to Wednesday afternoon. The coastal areas are expected to get the brunt of Jose's conditions.
At 11 p.m. Tuesday, the National Hurricane Center said Jose now has maximum sustained winds of 70 mph, but could bring high tide flooding to some low-lying areas near the waterfront and shorelines, forecasters say. That could result in road closures and cause widespread flooding of parking lots, parks, lawns and homes and businesses with basements near the waterfront.
Gradual weakening of Jose is expected during the next several days as Jose moves toward the northeast at 9 mph. At this track, according to forecasters, Jose will pass well to the east of the New Jersey coast on Wednesday, and pass offshore of southeastern Massachusetts by Thursday.
Gov. Cuomo says 100 members of the National Guard, 13 members of an urban search and rescue team, and 20 high-axle vehicles will set up a command post at a welcome center on the Long Island Expressway in Dix Hills in Suffolk County. The area is already experiencing rough waters and rip current advisories due to swells being generated by Jose. Those advisories will last through the middle of the week, according to Storm Team 4.

"We know how dangerous, volatile and unpredictable extreme weather can be, which is why it's always better to be ready for anything," Cuomo said in a statement. "With all that we have witnessed across the country the past few weeks, there is no reason to take chances when we have the time and ability to be prepared."
PSEG Long Island has also bolstered its ranks with out-of-state crews to help work on any power outages and downed trees.
Tracking Jose: Storm Team 4 Breaks Down Timeline, What to Expect
According to the National Hurricane's latest advisory, Jose is expected to make a turn to the northeast Wednesday, when it will begin dumping 1 to 3 inches of rain on eastern Long Island and southeast Connecticut. That rainfall could cause some isolated flooding.
Some showers hit the area during the day Tuesday, but according to Storm Team 4, periods of heavy rain, especially along the coast, are likely Tuesday night into Wednesday as the storm moves just offshore, possibly producing tropical storm-force winds in parts of Long Island.
Tropical-storm winds are possible in the watch area beginning early Wednesday.

[NATL]Photos: Long Road to Recovery Begins After Irma
Effects of Jose's winds were likely felt Tuesday night in Huntington after a massive tree came down onto a woman's car as she was driving on Dunlop Road. She was able to free herself and she was not seriously hurt.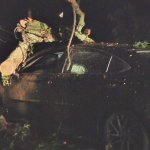 Impacts were being felt Tuesday morning as well. John F. Kennedy Airport was reporting four-hour arrival delays before noon because of strong winds. Matt Doherty, mayor of Belmar, New Jersey, tweeted a photo of a storm damaged-pier and rough surf. The end of the pier is no longer safe to walk out on. And in Middletown, a driver got stuck in floodwaters amid rising tides and whipping winds and had to be rescued from the roof of his car.
On Long Island, the sound of Jose's overture was thundering in places like Westhampton's James Beach.
"It's a huge washing machine out there, tons of white water," said Westhampton resident Justin Lettier, who's hoping the storm keeps moving east.
"We've lived through a couple and have seen what it can do. And it's frightening," said Karen Lettier.
In Shirley, Bill Napolitano exhausted his life savings to build his new house along Narrow Bay after Sandy destroyed it in 2012, and now with his home 10 feet of the ground, he's hoping for the best with Jose.
[NATL] Extreme Weather Photos: Record Heat Threatens Europe
Jose is expected to pull away from the tri-state area Wednesday evening, though some models indicate it could loop back around, lingering offshore in the waters between Long Island and New Jersey, through the workweek. That would make for breezy conditions and high rip current risk for days, but no additional rain or damaging winds, according to Storm Team 4.
Meanwhile, the vicious Maria is swirling toward Irma-battered Puerto Rico, which could see a direct hit by a major hurricane for the first time in decades.
Maria strengthened to a Category 5 hurricane Monday as it bore down on the Caribbean. On Tuesday it had maximum sustained winds of 175 mph.
[NATL] Dramatic Images: Floods Hit as Harvey Drenches Texas