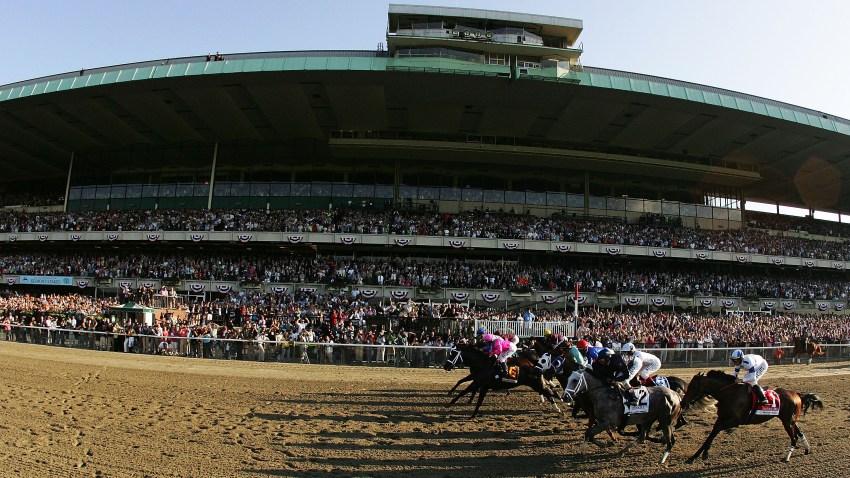 The Belmont Stakes can be cruel to jockeys.

Just ask Kent Desormeaux. Or Stewart Elliott. Or Calvin Borel. Or the dozens of other riders seeking glory in the final leg of the Triple Crown, only to lose their way and come up short at cavernous Belmont Park.

The 1½-mile Belmont is a one-lap endurance test over the longest and widest dirt racetrack in North America. To have a chance at winning, many top jockeys offer a single piece of advice: Don't get lost.

"This track can be very deceiving," said John Velazquez, who won the 2007 Belmont aboard Rags to Riches and will be riding Fly Down in Saturday's race. "You have to know where you are. Sometimes, it isn't easy."

Desormeaux learned his lesson in 1998. The Hall of Famer made his move too early aboard Kentucky Derby and Preakness winner Real Quiet and was caught by Victory Gallop, a stride short of a Triple Crown sweep.

"I think Real Quiet fell into the far turn and took me racing when it was premature," said Desormeaux, who won his first Belmont last year aboard Summer Bird, benefiting from an early move by Borel aboard Derby winner Mine That Bird. "It's such an enormous circumference that even the horses get lost."

Desormeaux doesn't have a mount for Saturday's race, so Velazquez and Alan Garcia are the only riders in a field of 12 3-year-olds with a Belmont win. Garcia won in '08 with Da' Tara and will be aboard Stately Victor.

Velazquez has been riding at Belmont for 20 years, and feels he knows the track as well as anyone. A big hurdle, he says, is understanding the location of the pole markers around the track that indicate the distance remaining to the finish line in eighths-of-a-mile increments.

At most tracks, horses are passing the three-eighths pole when they make the run into the far turn. At Belmont, that point on the track is the half-mile pole. It's a big difference.

"You've got to know where the poles are, and you also should ride the racetrack to get familiar with it," Velazquez said.

Three-time Belmont winner Gary Stevens remembers being awed the first time he showed up at Belmont.

"It's easy to get lost," the retired Hall of Fame rider said. "It's easy to believe you're going slower than what you really are. It can fool you into thinking that you have less ground to go than you do. I always thought of myself as a patient rider, but I knew I had to be even more patient at Belmont Park."

Of course, with so much riding on a race like the Belmont, riders aboard the favorites sometimes feel more pressure to win and often wind up making poor decisions.

Elliott rode Smarty Jones to a perfect record entering the 2004 Belmont and appeared a sure bet to become racing's first Triple Crown winner since Affirmed in 1978. But the rider with little experience at Belmont called on Smarty Jones far too early and was run down in the final 70 yards by Birdstone.

"The key is to be able to rate a horse without taking too much out of him," said retired Hall of Fame rider Angel Cordero Jr., who was 1 for 21 in the Belmont, winning with Bold Forbes in 1976. "Sometimes you can get too eager, sometimes there's confusion. They get caught up in what's happening at the moment and lose track of where they are. It happened to Real Quiet, to Smarty Jones, to others. They just move (too early)."

Said Velazquez: "In the heat of the moment, when other horses are making a premature move at you, sometimes everybody forgets where they are."

A year ago, Borel came to Belmont guaranteeing victory aboard Mine That Bird. A win and Borel would have his own personal Triple Crown since he also won the Preakness with Rachel Alexandra. However, the rider known for his rail-skimming Derby wins at Churchill Downs was not well prepared for Belmont Park.

He spent all week in New York without riding a race over the track, and it cost him. He was criticized for moving too early aboard Mine That Bird and finished third as Summer Bird came barreling down the stretch for the victory.

"I didn't think Mine That Bird could lose," Desormeaux recalled. "But things happened the way they did. It's a very different lay of the land here at Belmont."

Borel's response?

"I don't think he got tired. He had a lot of racetrack in front of him. I thought I had it won when I got to the quarter pole. Turning for home, I thought I was home free," he said

Fly Down comes into the Belmont off a six-length victory in the Dwyer Stakes last month at Belmont. The colt is the third betting choice at 9-2 behind Derby runner-up Ice Box at 3-1 and Preakness runner-up First Dude at 7-2.

Velazquez says knowing the lay of the land can only help his chances. Three jockeys will be riding at Belmont Park for the first time — Martin Garcia on Game on Dude, Jamie Theriot on Stay Put and Joel Rosario on Make Music for Me.

"I know where I am, I know the track and I feel like it's an advantage," Velazquez said. "Of course, you have to know the horse and get a feel for how he is moving in the race and know what kind of pressure you are getting from others. You don't want to make a premature move."

Copyright AP - Associated Press