Amid the frenetic preparations for the first presidential debate at Hofstra University, there's one thing the school apparently overlooked: how to spell the Democratic candidate's name.
"Souvenir tickets" issued to the 350 students for the first Hillary Clinton and Donald Trump debate had one glaring error: Clinton's name was spelled "Hilary," with one L.
Hofstra University spokeswoman Karla Schuster said in a statement emailed to NBC 4 New York, "These tickets are not official tickets to the debate. They were printed at the last minute to create a souvenir for the students. We'll be reprinting them for all those who won tickets."
Two different people who got the tickets confirmed they weren't official tickets to the debate, just "tickets to get the actual ticket."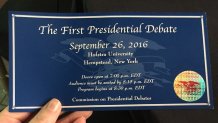 The official ticket did not include the candidates' names.
[NATL-NY] Tom Hanks Photobombs Lucky Couple's Wedding Shoot in Central Park
More than 7,500 students at the Long Island school had entered the lottery to watch the debate in person, and those who scored a spot got notification emails last week.
Hofstra University has furiously been preparing for the first presidential debate, its timeline compressed after the original host, Wright State University, pulled out, citing the costs associated with it.
In about 60 days, the university in Hempstead, with an enrollment of 10,870, was able to put together logisitical plans, building on its experience of having hosted debates in 2008 and 2012.
Copyright ALLPD