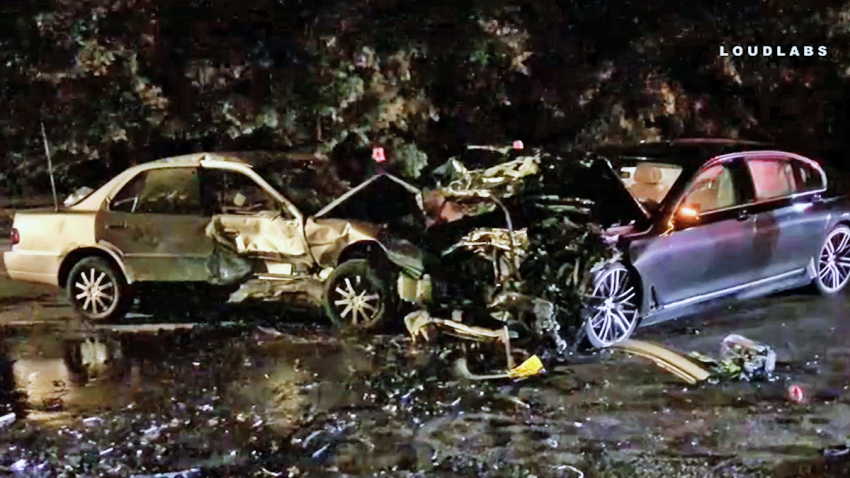 What to Know
A 59-year-old man died in a hit-run chain reaction crash that left multiple vehicles destroyed
Footage from the scene shows at least two vehicles completely mangled, the fronts of both cars squished together like an accordion
A 24-year-old man has been arrested on various charges, including criminal possession of a controlled substance
A 24-year-old Bronx man has been arrested in a violent chain-reaction hit-run crash that killed a 59-year-old man from the borough over the weekend.

Cops say Collin Hedley was driving a BMW southbound on Jerome Avenue shortly after 8 p.m. Sunday when he crossed over the double yellow lines into the northbound lanes, sideswiping a Honda SUV driven by a 70-year-old woman.

The BMW accelerated while still moving the wrong direction in the northbound lane and hit a Toyota driven by Ramon Monteagudo. Monteagudo's car then flipped clockwise into the path of another Honda SUV, this one driven by a 59-year-old woman, and the front of that Honda smashed into the passenger door of Monteagudo's Toyota. Hedley allegedly ditched his mangled vehicle and ran away on foot; he returned to the scene some time later and was taken into custody.

Footage from the scene shows at least two vehicles completely mangled, the fronts of both cars squished together like an accordion as debris littered the road.

Hedley was charged with leaving the scene of an accident resulting in death, criminal possession of a controlled substance and unlicensed operation of a motor vehicle. It wasn't immediately clear if he had an attorney who could comment.