The last thing on one New York woman's Thanksgiving shopping list? A selfie with Hillary Clinton at the grocery store.
Brittany Valente, 25, bumped into Hillary, Bill, Chelsea and baby grandson Aiden at the Chappaqua Village Market on Wednesday and posted a photo to Instagram.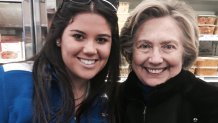 She joked that Bill was "busy looking at cheese" while Hillary was taking pictures with everyone who asked.
https://www.instagram.com/p/BNKsqhuBsH_
"They were so relaxed and shopping for Thanksgiving dinner at the local village market," Valente told NBC News. "They were so nice talking to everyone, wishing them happy holidays and at one point Hillary said 'We must stay strong together no matter what. Thank you for your support.'"
[NATL-CHI]What Hillary Clinton's Decision to Wear Purple in Concession Speech Means
Valente, a marketing manager at Convene, said she has seen the Clintons many times around town, but this time was special.
"Turkey, sweet potatoes, cranberry, Hillary Clinton lol typical grocery shopping," she said.