What to Know
Six men were arrested in Brooklyn for allegedly running an international heroin ring
They have connections to Mexican cartels and moved the drug to Los Angeles, Chicago and New York, authorities say
They allegedly boasted about their lavish lifestyle on Instagram; an account shows photos of cars, jewelry and designer clothes
A major heroin ring operating out of New York City was busted this week, and federal authorities say they've arrested dealers who've been living the high life, including a man who lavished his young children with a Versace stroller and Gucci sneakers.
Luis Lopez, Peter Vasquez and Victor Agosto were arrested in Brooklyn on Wednesday. The three men allegedly ran an international heroin ring from Brooklyn, Queens and other locations. Three other men were also arrested.
[NATL] Top News Photos: Pope Visits Japan, and More
Twelve kilograms of heroin worth $900,000 were seized Wednesday morning during the arrests, authorities say.
Authorities allege the men had connections to Mexican cartels and were able to move heroin from Mexico to Los Angeles, and from there to Chicago and New York. Papers filed in federal court in Brooklyn say they also traveled to Mexico for meetings with a drug cartel there.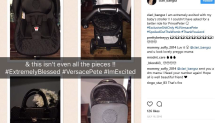 During the investigation, agents seized more than $800,000 in drug proceeds, prosecutors said. Ohio state troopers discovered about $300,000 of that total hidden in a car rented at LaGuardia Airport in 2011, the papers said.

An Instagram photo under the user account @fishmoneybagz shows some of the suspects — including Vasquez, Lopez and Agosto — posing in pricey bathing suits on a boat.
[NATL-NY] See Inside New Jersey's Darlington Estate, the 58-Room Masterpiece Hailed as America's 'Versailles'
Authorities say photos like that one prove the accused were living large off money they made selling heroin, and that everything from a $20,000 watch to gold chains and bracelets were flaunted openly on social media.
Instagram photos show hundreds of thousands of dollars in jewelry owned by Lopez and his wife, as well as a $3,000 Versace stroller for one of their children and Gucci sneakers worth hundreds of dollars that their 8-year-old daughter wore to her fifth-grade graduation, authorities say.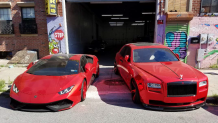 The three men allegedly compiled a fleet of cars worth more than $1 million, including a Lamborghini Hurácan, Rolls Royce Ghost, Bentley, Audi R8 Spyder, Mercedes CLS63, Mercedes S550, Porsche Cayenne, Maserati, Range Rover Sport and BMW M4.
When they wanted to relax, the accused jetted off and spent large amounts of money to rent out a Miami waterfront property, authorities say.
If convicted, the men face decades behind bars.

It wasn't immediately known if the six men had attorneys who could comment on their arrests.
[Photos-NY Subscription Service] Consumer Reports Ranks America's Supermarkets From Best to Worst