Students were just getting out of school in Tribeca Tuesday afternoon, many ready to trick-or-treat and participate in Halloween festivities, when a truck driver rampaged down a popular bike path nearby and crashed into a New York City school bus, killing eight people and injuring nearly a dozen others, including two students on the bus.
Two fathers waiting for their kids saw the crash happen and ran over to the truck driver, according to another parent at I.S. 289 who later spoke to the fathers. They saw 29-year-old Sayfullo Saipov jump out of his rented truck with what appeared to be two guns.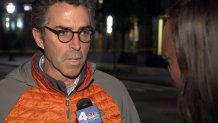 "Their instincts were to go over and see if the driver was OK -- but when he got out with the two guns, their inclination was to take all the kids coming out of I.S. 289 and tell them all to go back inside and help them upstairs, where it turns out my daughter was," said Tim Reed, calling the two fathers "unsung heroes."
"My God, they had to take all those kids and push them back in there because God forbid if those were real guns and that guy started shooting like in Las Vegas, it could have been far more tragic than it was," said Reed.
Another woman outside the school was standing at a bus stop when she suddenly saw children and teachers from P.S. 89 screaming and running back into the school around dismissal time.
"A man said, 'Run, run for your life,'" said Margaret Yearwood.
Another witness on the street said after he saw the school bus totaled, he went to go help the bus driver.
"I wasn't sure why he was so spaced out and then I went to the other side, it was all caved on. A poor girl was stuck right above the wheel well. There were two kids that were just stuck by the window. It was all blown out," he said.
In NYC, looks like another attack by a very sick and deranged person. Law enforcement is following this closely. NOT IN THE U.S.A.!

— Donald J. Trump (@realDonaldTrump) October 31, 2017
We must not allow ISIS to return, or enter, our country after defeating them in the Middle East and elsewhere. Enough!

— Donald J. Trump (@realDonaldTrump) October 31, 2017
My thoughts, condolences and prayers to the victims and families of the New York City terrorist attack. God and your country are with you!

— Donald J. Trump (@realDonaldTrump) October 31, 2017
Two staff members and two children on the bus were injured, police said. Schools chancellor Carmen Fariña said one of the students is in critical condition.
As the schools subsequently went into lockdown, the staff did a "phenomenal job," according to Reed.
"They kept [the students] calm, they had them all separated by classes. Some had their parents with them. Everyone was very nervous, but it was all handled very professionally."
Another caretaker picking up children at the school told News 4, "The school did an amazing job."
Reed said as other parents rushed to the school to pick up their children, police initially wouldn't let them in because they were trying to clear the area. The parents refused to go.
[NATL] In Photos: Aftermath of Deadly Truck Rampage in Manhattan
"We're like, 'hey, let us see our kids, we're not gonna just leave,'" he said. "So finally my wife looked at the police chief and he relented and let us in, and we were able to be with our daughter."
When the lockdown finally lifted, students streamed out of school, their hands clutched tightly by parents and caretakers, walking past the police tape that had been put up around the building. Some of the kids were in Halloween makeup and costumes.
Meanwhile, over at nearby Stuyvesant High School -- one the city's most competitive public high schools -- some students were still in class when they heard the truck crash. They ran over to their windows and saw the destruction below, according to sophomore Areyan Kayum. They then heard gunshots following the crash, he said.
The school was immediately put into shelter mode and students were locked into the school.
"I'm just glad I'm safe and everyone in the school is safe," said Kayum. He added that the principal excused the school from homework for the night.
Schools chancellor Carmen Fariña said, "Today there was an act of terror in close proximity to several schools in lower Manhattan. We stand with the entire city as we mourn this senseless loss of life. We are grateful to the first responders and school staff who work tirelessly to help keep our schools and communities safe. Ongoing guidance and trauma counselors will be provided across schools to those in need tomorrow."