What to Know
Con Edison was taking 30,000 customers in Brooklyn off power while the utility made repairs
The utility had widespread outages in Brooklyn in Queens on the third day of a heatwave
A cold front moving through the tri-state on Monday will provide some relief from the heat, bringing periods of rain and stormy weather
More than 50,000 Con Edison customers lost power on Sunday night, primarily in Brooklyn and Queens, as a heatwave gripped the tri-state for a third and final day.
The heatwave made it feel like more than 100 degrees across the tri-state on Sunday, then fierce evening thunderstorms in New Jersey knocked down trees, power lines and even a construction crane.
In Brooklyn, Con Edison pre-emptively took 30,000 customers offline to make repairs and prevent a bigger outage, Mayor Bill de Blasio announced in a tweet.
The utility also reduced voltage to about a quarter of a million people in southeast Brooklyn. That means about 849,000 people had reduced or no power on the sweltering evening.
Three nursing homes had no power, the mayor said. One was running on a generator and the city was sending cooling buses to the others.
Residents without power were urged to unplug devices and appliances, leave at least one light on so they would know when power is restored, and keep freezers and refrigerators closed.
Gov. Andrew Cuomo said he was deploying 200 troopers, 100 generators and 50 light towers to assist with the power outages in Brooklyn.
"We've been through this situation w ConEd time & again & they should have been better prepared—period," Cuomo said in a tweet.
Con Ed said the utility set a new record weekend demand of 11,996 megawatts, breaking the previous record of 11,855 megawatts set in August 2016.
More than 17,000 customers of other utilities across the tri-state were also without power Sunday evening.
The temperatures soared for a third straight day. LaGuardia Airport (100 degrees), JFK Airport (99 degrees) and Bridgeport, Connecticut, (98 degrees) tied their record highs for the date. Central Park reached 95 with a heat index of 106, not setting a record but making for an uncomfortable day.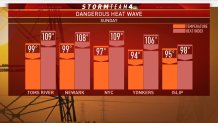 A strong burst of thunderstorm hit Somerset and Bridgewater, New Jersey, on Sunday night, downing trees and utility wires and bringing small hail, according to damage reports from the National Weather Service.
During the high winds, a construction crane in New Brunswick collapsed onto a house, photos posted to social media showed. One person was in the home at the time, but she wasn't hurt, officials said.
Track the weather with our interactive radar below. Check the latest severe weather alerts for your neighborhood here.
LaGuardia and Newark airports temporarily held inbound flights at their origin on Sunday evening due to thunderstorms. Delays continued throughout the evening.
A cold front moving through the tri-state on Monday will provide some relief, bringing periods of rain and stormy weather that are expected to last into Tuesday morning. Monday will likely see a high of 79.
The heat canceled concerts, races and other outdoor activities, caused scattered power outages and chased residents to swimming pools and the shore in an attempt to stay cool in the dangerous summer temperatures.
Police in Hackettstown, New Jersey, even tweeted a request asking criminals to wait until it's cooler.
"It's way to hot out there and conducting criminal activity in this extreme heat is downright crazy," the verified @HackettstownPD account tweet said. "We will all meet again next week when it's cooler."
The extreme heat caused the New York Racing Association to cancel all of Saturday's races at Saratoga, the first time that has happened since 2006. Monmouth Park canceled six races and pushed back its stakes races, including the $1 million Haskell Invitational, until early evening.
OZY Fest, which was scheduled for Saturday and Sunday in Central Park and featured musician John Legend, comedian Trevor Noah, among other artists and celebrities, has been canceled, the mayor announced.
The New York City Triathlon was canceled Thursday due to the extreme heat expected, and the New Jersey State Triathalon has been shortened.
How do you know if you're dehydrated? Here are nine signs you should never ignore.
De Blasio declared a state of emergency for the city until the end of Sunday. The order directs taller officer buildings to set thermostats to 78 degrees to conserve energy, though the order does not apply to residential buildings. Government buildings have already set thermostats to the same level, the city announced in a statement.