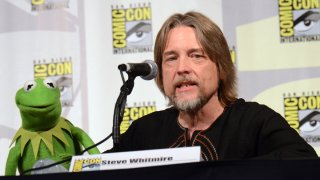 What to Know
Steve Scalise, critically wounded in a shooting at a baseball practice, has undergone surgery for an infection linked to his bullet wounds
Senate Republican leaders have released a new version of their health care bill and they hope to vote on it as soon as next week
Steve Whitmire, the puppeteer who was fired as Kermit the Frog said he's "devastated to have failed" Muppets founder and mentor Jim Henson
Get the top headlines of the day in your morning briefing from NBC 4 New York, Monday through Friday. Sign up for our newsletter here.
Steve Scalise Undergoes Surgery for Infection, in Fair Condition
House Majority Whip Steve Scalise, critically wounded in a shooting at a baseball practice nearly a month ago, has undergone surgery for an infection linked to his bullet wounds. A statement from MedStar Washington Hospital Center says the Louisiana congressman and third-ranking House Republican has been upgraded to fair condition. The hospital says Scalise will require careful monitoring to determine if further action is necessary. Scalise and four other people were injured June 14 when a man opened fire on a baseball practice in nearby Alexandria, Virginia. U.S. Capitol Police and other officers returned fire and killed the gunman. The 51-year-old congressman was struck in the hip and the bullet tore into blood vessels, bones and internal organs. He has undergone several surgeries.
Judge Rules Grandparents, Others Exempt From Travel Ban
In another setback for President Trump, a federal judge in Hawaii has further weakened his already diluted travel ban by vastly expanding the list of family relationships with U.S. citizens that visa applicants can use to get into the U.S. The ruling is the latest piece of pushback in the fierce fight set off by the ban Trump first attempted in January. It will culminate with arguments in front of the U.S. Supreme Court in October. The current rules aren't so much an outright ban as a tightening of already-tough visa policies affecting citizens from six Muslim-majority countries: Syria, Sudan, Somalia, Libya, Iran and Yemen. People from those countries who already have visas will be allowed into the country. Only narrow categories of people, including those with relatives named in the ruling, will be considered for new visas. U.S. District Judge Derrick Watson ordered the government not to enforce the ban on grandparents, grandchildren, brothers-in-law, sisters-in-law, aunts, uncles, nieces, nephews and cousins of people in the United States.
Palestinian Attackers Killed After Shooting Israelis Near Holy Site, Police Say
Three Palestinian assailants opened fire on Israeli police from inside a major Jerusalem holy site, killing two officers before being shot dead, police said. The rare attack from within the contested shrine, revered by both Muslims and Jews, raised new concerns about an escalation of violence. The sacred compound sits at the fault line of the Israeli-Palestinian conflict, and has triggered major confrontations in the past. Israel closed the site, known to Muslims as the Noble Sanctuary and to Jews as the Temple Mount, for further weapons sweeps. The rare closure meant a cancellation of noon prayers, which typically draw tens of thousands of Muslims from Israel and the Israeli-occupied West Bank to the compound.

This Is How the GOP Plan Would Change Health Care Coverage
Senate Republican leaders released a new version of their health care bill and they hope to vote on it as soon as next week. Here's what you need to know about how it would affect your health care: Premiums and deductibles: Like Obamacare, the Senate bill provides subsidies to buy insurance on the individual market based on a person's income. But they're less generous overall and encourage people to buy plans that cover fewer out-of-pocket costs. Pre-existing conditions: The Senate bill would weaken protections for people with pre-existing conditions and push sicker customers toward more expensive plans and healthier customers toward cheaper, less generous plans. Medicaid: The Senate bill would reduce Medicaid spending dramatically compared to current law.
Rapper DMX Arrested on Federal Tax Fraud Charges, Prosecutors Say
Rapper DMX has been arrested in New York on federal tax fraud charges. Prosecutors say the rapper, whose given name is Earl Simmons, owes $1.7 million in taxes and has engaged in a multi-year scheme to conceal millions of dollars of income from the Internal Revenue Service. Prosecutors say Simmons raked in millions from his songs, including the 2003 hit "X Gon' Give it to Ya," and avoided paying taxes by setting up accounts in other's names and paying personal expenses largely in cash. The 46-year-old Yonkers native is to appear in Manhattan federal court. A telephone call to his previous lawyer's office went unanswered. In 2015, Simmons spent more than two months in a New York jail for failing to pay child support.
Fired Voice of Kermit the Frog Says He's "Devastated"
It isn't easy being green. But no longer being green is apparently even harder. Steve Whitmire, the puppeteer who was fired after 27 years as Kermit the Frog said he is "devastated to have failed" Muppets founder and his mentor Jim Henson. Whitmire has been with the Muppets since 1978, and took over as Kermit after Henson died in 1990. He wrote an emotional blog post in response to his firing a day after it was made public. He said he was let go against his will, and would never have left voluntarily. Whitmire said he was informed that Kermit would be recast in October, and has kept silent in the ensuing months in the hopes that he could get his bosses to change their minds. He said he offered "multiple remedies" to the reasons he was given for his firing. He would not say what those reasons were, nor would Muppet Studio or its parent company Disney, who have not responded to requests for comment from The Associated Press.