A cavernous aircraft hangar that once held thousands of artifacts left behind after the Sept. 11, 2001, terror attacks has just 18 pieces remaining.
Hangar 17 – an 80,000 square-foot warehouse at John F. Kennedy International Airport – sits nearly empty after more than a decade of housing more than 2,480 pieces of twisted steel, smashed cars, soot-covered keys and other remnants from the attacks.
More than 1,400 communities and organizations across the country have claimed items for memorials and tributes, gradually emptying out the hangar.
The Port Authority, which manages Hangar 17, said it is confident homes will be found for all of the artifacts in the next few weeks. Then the longtime resting place for the items will be demolished.
"We are gonna find homes for all of these items," spokesman Steve Coleman said.
Hamburg, Iowa, was among the communities that claimed the final pieces. The town of about 1,200 near the borders of Nebraska and Missouri picked up a pair of third rails from the PATH station that once sat under the World Trade Center for its Heroes Park.
Elaine Howard and her husband, Tom, made the 1,400-mile trek from the Midwestern city to pick up the item.
"We always think -- if it could just talk what it could tell us," she said. "And the rails will do the same."
Another item, a piece of the North Tower's upper floors – above the site where it was hit by American Airlines flight 11 – is set to be claimed by an engineering union in Howard Beach on Tuesday.
"It's from floors 97 to 100," archivist Amy Passick said. "Above the impact zone."
Several other items – including a motor from one of the elevators, part of an antenna from the roof and a chunk of a park of garage – are expected to be claimed soon.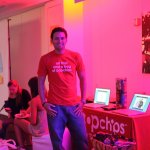 Other items, including twisted metal flooring and a Port Authority Police Department patrol car, remain unclaimed.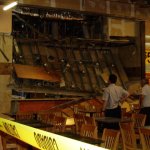 Top Tri-State News Photos