The man who shot and injured an NYPD officer on Thursday wrote a swastika on a bedroom wall before killing himself during a standoff with police, law enforcement sources say.
Andy Sookedo, 29, painted the swastika on the wall along with the words, "I die with a joyful heart," the sources said.
Sookedo was found dead with a self-inflicted gunshot wound when police entered the home Thursday evening, according to police.
Hart Nguyen, the 30-year-old officer he shot, was released from the hospital on Friday.
Nguyen was responding to a call from Sookedo's mother, who had called police to report her son was acting erratically. She said he was emotionally disturbed but unarmed.
When Nguyen went to speak with Sookedo, he fired through the bedroom door at him, hitting the officer in the arm once and the chest twice. Nguyen was wearing a bulletproof vest at the time; police say it saved his life.
Negotiators had been trying to take Sookedo into custody when he shot and killed himself, police said.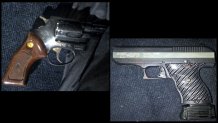 His body was found in a rear bedroom of an apartment he shared with his family. A revolver, semi-automatic handgun and ammo were recovered beside him, according to police.
In addition to the weapons, Sookedo had a good amount of pills and had recently gotten a new BMW, which has raised questions about how he funded the car and what he was doing with the medication, police said.