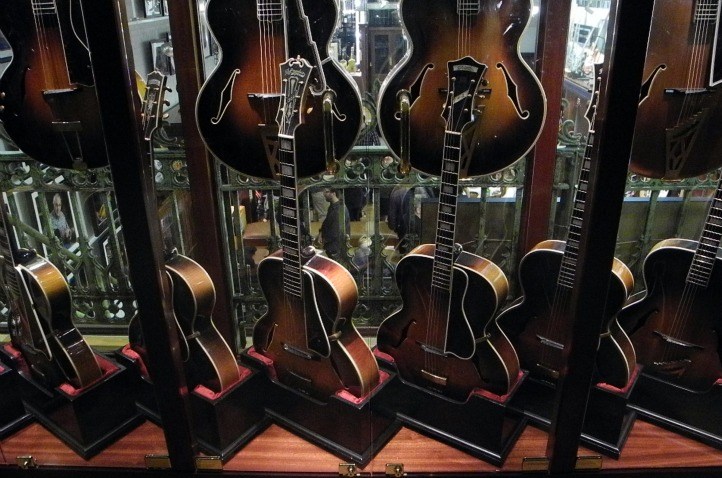 A tight group of guitar aficionados gathered inside Rudy's Music in SoHo Monday night to celebrate the release of an album 12 years in the making.

The album's long gestation period hadn't anything to do with band break-ups and make-ups, nor with quibbling or writer's block. There were no tales of disagreements or disengagement. In fact, the guitar quartet, which includes the composer, wasn't even involved in the first few years of the album's life, which began in the Long Island workroom of master guitar-maker John Monteleone.

"Guitars aren't only instruments," said Monteleone. "They're pieces of art."

With that in mind, Monteleone began a meticulous process of crafting four guitars—each one intended to look, feel and eventually sound like a season of the year. The winter guitar featured a diamond-encrusted sky. Spring burst with blue.
Composer Anthony Wilson took it from there, writing music to match the four seasons, gathering three other master guitar players and performing live in April to a packed house at the Metropolitan Museum of Art.
The performance and much of the process leading up to that night were documented on video. The footage was screened Monday night to celebrate the long process leading up to the release of "Seasons: Live at the Metropolitan Museum of Art." (The trailer is below.)
About 40 friends and fans filled the guitar shop's main room—a dark wooden space lined with gleaming instruments and framed photographs—to watch the documentary, drink wine and adore the work of masters.

"These guys have guts," said Danny Garofolo, 79, who opted for a safer career selling Serta mattresses before retiring and returning to his first love: vintage guitars. He had heard about the album release party from Rudy Pensa, owner of the legendary shop, who buys some of the vintage guitars Garofolo brings in from his hunts.

Pesna, animated and laughing with his friends and neighbors, tended a makeshift bar atop a guitar display case. He sang the praises of Monteleone and Wilson, who took turns at his side. John Ritchie, 30, came to see Wilson, who was his sax teacher at the University of California in Los Angeles years ago. Wilson accepted thanks and gave thanks.

And Monteleone—surrounded by friends, the musicians who brought his artwork to life and a crowd that appreciated his labor and vision—beamed.

He's already moved onto the next project, luxury train-inspired guitars, but isn't letting go of the four seasons work he's done. Those four guitars are back at his house, and unlike most of his other guitars, they're not for sale. "No," he said. "Those are mine."

"Seasons: Live at the Metropolitan Museum of Art," which includes a CD and DVD of "Seasons," a concert documentary film, is available online, on iTunes and at Brick and Mortars about town. For more information visit Anthonywilsonmusic.com.