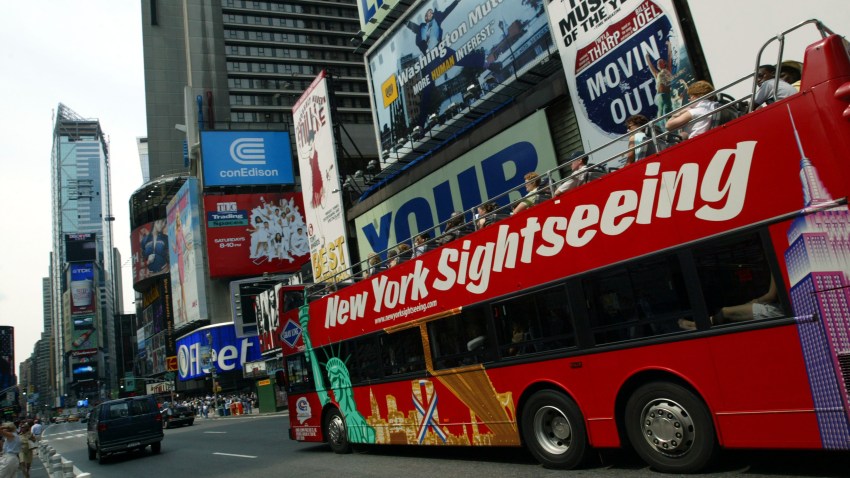 A joint venture between two bus companies that operate most of the hop-on, hop-off sightseeing tours around the city is a monopoly and should be broken up, New York Attorney General Eric Schneiderman said in announcing an antitrust lawsuit.
Schneiderman and the U.S. Department of Justice filed the antitrust lawsuit in federal court in Manhattan on Tuesday. The suit is against Twin America, which was created in 2009 when the two bus companies combined. The companies are Gray Line New York, operated by Coach USA, Inc., and City Sights.
"The iconic double-decker Gray Line and City Sights buses are seen all over New York City but few people know they are a monopoly that has led to higher prices and less competition. Visitors to New York deserve better," Schneiderman said.
The suit says the two bus companies were the largest players in the hop-on, hop-off bus market and in combining, have a 99 percent share of the market. It says the companies used the creation of the joint venture to raise prices, a move that couldn't be made when they were competitors because any fare increase by one company would be undercut by the other.
Twin America said it was "very disappointed in the decision and allegations" and that Schneiderman's "actions do not reflect the improvements, increased services and greater value our joint venture has delivered to customers over the past three years, despite a very challenging economy."
The company said it intended to "robustly" defend its position, along with Coach and City Sights.
The filing said an estimated two million visitors a year use the hop-on, hop-off buses to tour the city's sights, a market worth about $100 million.
Copyright AP - Associated Press