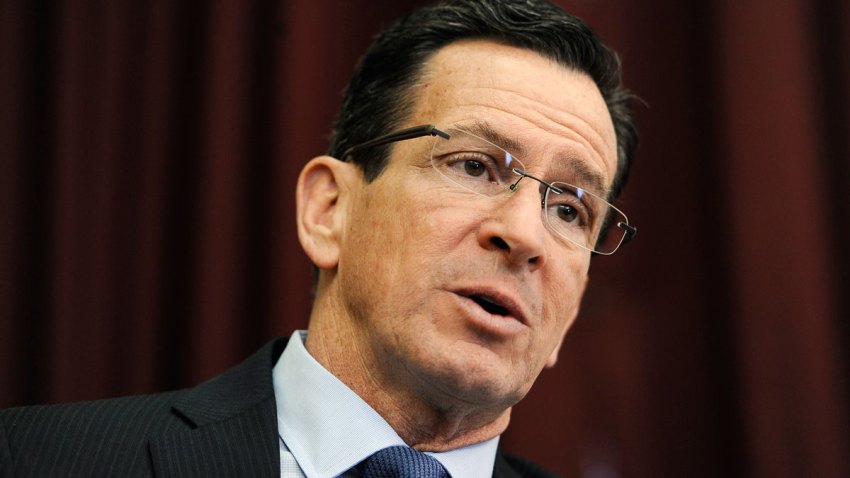 Gov. Dannel P. Malloy issued a somber warning to state lawmakers on Wednesday, cautioning that Connecticut's budget is not sustainable and that changes must be made to how the state crafts its budget to meet a "new economic reality" of shrinking revenues.
The Democrat said state government must "reset our expectations of what we can afford," as well as how it provides government services and saves for priorities.
"Together, this year we need to reshape the way Connecticut budgets," Malloy told a joint session of the General Assembly on the opening day of the new session. "We need to make our budget more predictable, more sustainable and more transparent."
Malloy's call for systemic budgetary changes, including a proposal that could reduce the state's workforce by more than 1,000 employees, comes as Connecticut continues to face a string of predicted budget deficits. It also follows last month's announcement that General Electric plans to move its headquarters from suburban Fairfield to Boston.
While his message of change was mostly welcomed by state legislators, Democrats and Republicans voiced some concerns about Malloy's proposed $19.8 billion budget for the fiscal year that begins July 1. It is $569 million less than what lawmakers originally agreed to last year, when they passed a two-year, $40 billion budget.
The new fiscal year is projected to have a $500 million shortfall. Larger deficits are predicted in the following two fiscal years.
Senate Minority Leader Len Fasano, R-North Haven, said he's concerned with Malloy's proposed 5.75 percent across-the-board cut to discretionary agency accounts, predicting certain residents could be unfairly impacted.
"I'm against it. Not the cuts, but I'm against doing it in this haphazard manner because there are a lot of people who need money, a lot of people who need services," he said, adding how the proposal could usurp the legislature's ability to make budgetary policy decisions.
Jeffrey L. Walter, interim CEO of the Connecticut Community Nonprofit Providers, warned the proposed spending cuts and budget policy changes "will devastate nonprofit programs" and curtail or eliminate "essential human services for thousands of individuals across the state."
A major highlight of Malloy's proposal calls for cutting state employee costs, including pension expenses. He expects the state's workforce will be reduced by more than 1,000 employees, either through attrition "or other means." His budget director, Ben Barnes, however said the figure could be several thousand, depending on how state agency heads cover the spending reductions included in Malloy's budget.
"I don't take that lightly, but I do think it's necessary," Malloy said of the job cuts. "I will continue to work with our state employees to make sure those reductions are done fairly and with great care."
SEIU 1199 New England, a union that represents 7,500 state employees, warned against cutting jobs that provide vital services, such as having safe drinking water or caring for people with disabilities.
"Let us learn the lessons from the Flint (Michigan) water crisis and understand that certain services and jobs are more than just a line item to be eliminated and can have dire consequences on our families and communities," said union spokeswoman Jennifer Schneider.
Malloy's budget proposal now becomes the basis of negotiations with the General Assembly, which will ultimately vote on a tax-and-spending plan. The session ends May 4.
Copyright AP - Associated Press