What to Know
A new citywide advertising campaign for Google Maps is causing controversy in some Brooklyn neighborhoods
Some residents of Bedford Stuyvesant say posters saying "You Don't Know Bed-Stuy (yet)" are "tone-deaf" to gentrification issues
But Google says the ads aim to inspire both long-time New Yorkers and newcomers to keep exploring their city
A new poster campaign from Google that proclaims "You don't know New York (yet)" is causing controversy in Brooklyn, with some blasting the ads as "tone-deaf."
The outdoor ad campaign, which launched across New York City in August, promotes a new Google Maps feature. But localized versions of the ad like the one that reads "You don't know Bed-Stuy (yet)" have been criticized by some who say they are blind to gentrification issues in the neighborhood.
"Please write to Google and ask them to remove these offensively tone-deaf posters heralding the colonization of Bed Stuy," Gabriel Mendes wrote on a post in the Bedford-Stuyvesant community Facebook group that prompted more than 120 comments.
Mendes posted a photo of the message he himself sent to Google. "The only message one can read from this is that they're directed to all the new gentrifiers arriving in this beautifully historic black neighborhood. Please remove them now!"
"I wonder who this ad is for? #gentrification #beckywiththeroomates #googlemapsfail," Chenezza Graham posted to Instagram from another Brooklyn neighborhood, with a photo of an identical poster that reads "You don't know Crown Heights (yet)."
Asked about the controversy, a Google spokesperson did not directly address accusations that it was being "tone-deaf" to gentrification issues, but said the ads were created to inspire people to step out of their daily routines.
"We intentionally sought diverse perspectives when developing the campaign, speaking in depth with both long time New Yorkers and newcomers alike," a spokesperson said. "No matter how long you've lived somewhere, we believe that there's value in continuing to explore your city."
Google's campaign was launched to promote new features on Google Maps that help people find new things to do and places to eat in their neighborhoods. The ads can be seen on bus shelters, subway tunnels and on walls around the city. "You don't know Central Park (yet)," one reads. Many have more generic copy like "You don't know salad (yet)" or "You don't know modern art (yet)."
But the posters took on new meaning in areas affected by gentrification, Brooklyn resident Dupe Ajayi said.
"After seeing the post, I started to notice them in other locations. This poster on the upper West Side is not viewed the same because people who live there aren't being displaced," she said. "There's so much change happening in Bed-Stuy with little regard for those who have grown up and lived there most, if not all of their lives."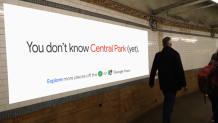 Gentrification in Bedford-Stuyvesant is well documented. A 2017 report on the changing economics of the neighborhood found its population had surged in the past 15 years, mainly due to newcomers. "Gentrification has brought economic growth and new opportunities to Bedford-Stuyvesant, but the benefits have not been shared by all residents," state comptroller Thomas DiNapoli wrote.
He noted a large income gap between newcomers and long-time residents: in 2015, new residents had a median income of $50,200 while long-term residents' median income was $28,000.
While many in the Bedford-Stuyvesant Facebook group said they were offended by Google's ads, some said they were just glad the neighborhood and its businesses had been included in the campaign.
These Are the Laziest States in America, New Study Says
Marketing website The Drum reported it was Google Maps' first outdoor advertising campaign in the United States. "The company had to do something bold and attention-grabbing, so they told New Yorkers that they don't know New York, or anything in it… yet," it said.
The Department of Transportation said any complaints about the ad should be directed to outdoor advertising company JCDeaux. JCDeaux has been contacted for comment. The agency behind the campaign, Anomaly, did not respond to a request for comment.
New York Ranks Worst State in America for Retirement, Study Finds