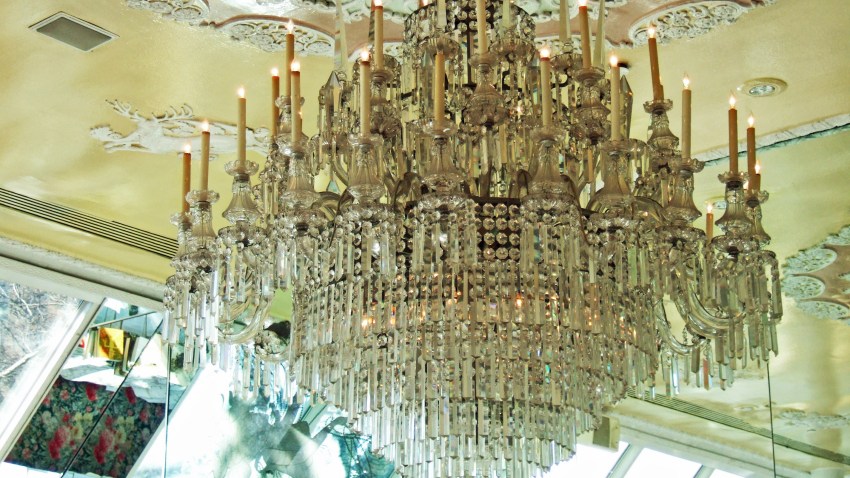 The glittering jewel of Central Park gets cut up into little pieces and auctioned off next week. So, knowing that Tavern On The Green will never look or feel the same again we made one last visit.
We asked Kay LeRoy to meet us there because no one, except her late ex-husband, Warner LeRoy, could possibly know the place as well.
"The park was a desert when Warner took over the building's lease in 1973 (a reference to the dust bowl status of the Great Lawn), dangerous and full of drug dealers," she remarked.
"However, Warner had a way of seeing through the dust and dirt," she explained. "When he saw the courtyard, he saw the Crystal Room in his mind and he said 'You will feel like you're inside a wedding cake,' she reflected.
An estimated 20 million people have dined inside that wedding cake and elsewhere in the restaurant over the last 31 years, making it for awhile the highest grossing restaurant in America.
The late Beatle, John Lennon, a neighbor of the LeRoys in the nearby Dakota, was a regular.
"John liked to order the beef and kidney pie and custard. He loved his English food," offered Kay. "Al Pacino and Robert DeNiro often brought their children here," she added.
However, it wasn't the food, but the lushness of the place that made the restaurant into a New York City icon.
The light fixtures and panels made of original Tiffany glass, the murals depicting Central Park, the worm-holed paneling in the Chestnut Room, the garden topiaries, made by Dan Ondrejko -- the greensman for the movie "Edward Scissorhands" -- created a visual delight around every corner.
Now all of these luxuries, totaling 980 auction lots, are for sale to pay off a long list of bankruptcy creditors.
Included on the block are two Baccarat chandeliers with beaded and drop pendants which are valued at $50,000-$200,000, and the emerald green Osler chandelier from ceiling center in the crystal room is valued at $100,000-$300,000.
"We don't know what people are actually willing to bid, until they do," said Arlan Ettinger, President of Guernsey's, which is conducting the auction.
One item not for sale is a Mason's Ironstone Turkey Platter embedded in the wall in the Chestnut Room.
"That's my platter", says Kay Leroy, "and it's coming home with me."