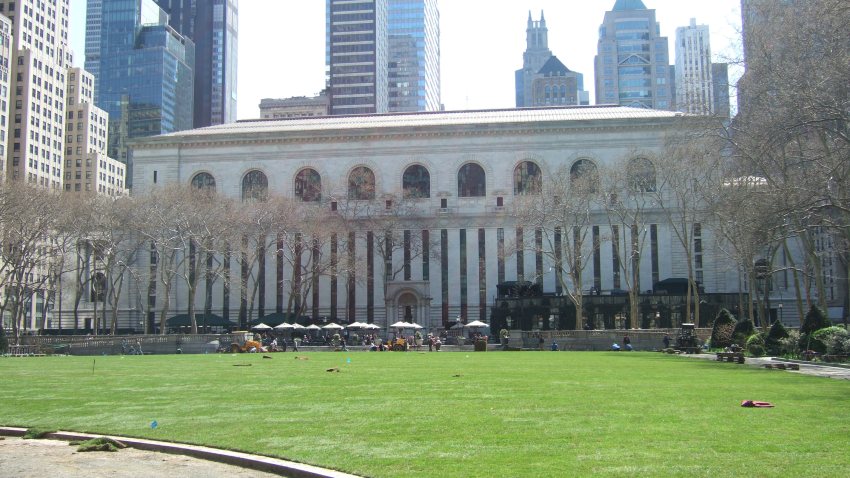 Green Week is here, so it's that time to turn off your television sets and go outside.
The Bryant Park Corporation, in cooperation with the 34th Street Partnership, and the Chelsea Improvement Company are offering an array of entertainment and activities to enjoy this spring and summer.
Everything from Broadway performances to literary discussions, jazz music sessions, fencing, chess, knitting, ping-pong, belly dancing, tai chi, yoga, birding tours, cost little to no charge to the public.
To ready itself for the upcoming festivities, Bryant Park laid out their grass imported from a Long Island farm last month.
As they await the rest of the grass' roots to grow out for another few weeks, people are prohibited from walking and sitting on the grass, but are allowed to sit on the surrounding benches and chairs.
One way Bryant Park is "going green" is their ban on operating motorized vehicles (aside from wheelchairs). Another is using the newest kind of recycling and trash receptacles located all around the park.
"Green" events will include gardening for kids and creating green arts and crafts.
The 18th annual HBO Bryant Park Summer Film Festival's Mondays at Sunset will kick off on June 21 with the 1964 James Bond flick Goldfinger. Every Monday night through August 23, viewers can sit back on the grass and watch classic movies that are 30 years old or older. The entire list of films will be announced by early May.
To get a feel of the Great White Way without traveling to the theater district, 106.7 Lite FM's "Broadway in the Park" starts July 8 and every Thursday through August 12 from 12:30 p.m. to 1:30 p.m. Past concerts included Rock of Ages, Hair, Chicago, among others. The show titles will be announced sometime in June.
New Yorkers looking to listen to some tunes after a long day's work can swing by "The Bryant Park After Work Music Series" starting May 5 and every Wednesday through September 1 from 6:00p.m. to 7:30p.m.
Some of the city's best pianists play ragtime and jazz on a specially designed piano for the park in the weekly series "Piano in Bryant Park."
Literary fans can attend Reading Room Events such as Word for Word author series in which authors discuss their latest books. Fashion publicist Kelly Cutrone from the series Kell on Earth and former baseball slugger Darryl Strawberry, among others are slated to appear with their books.
Family and kid-friendly events will include rides on Bryant Park's Le Carrousel, magic shows, storytelling with Word for Word Kids series, and more.
At Herald Square and Greeley Square Park on 34th St, the New York Sports Club is offering free zumba classes. In addition, hoop dancing sessions featuring an on-hand hoola hoop dancing instructor from Fitonic.
Starting May 1 through October 15 from 11:00 a.m. to 7:00 p.m., chess fans are welcomed to play at Greeley Square Park . There is a small rental fee to use the park's chess boards.
At the Chelsea Triangle 14th Street and 9th Ave, people can take free capoeira classes, which is a combination of African-Brazilian dancing and martial arts, while free belly dancing and yoga classes will be taught at the 14th Street Park on 10th Avenue.
For a complete list of all the park's events, click here.