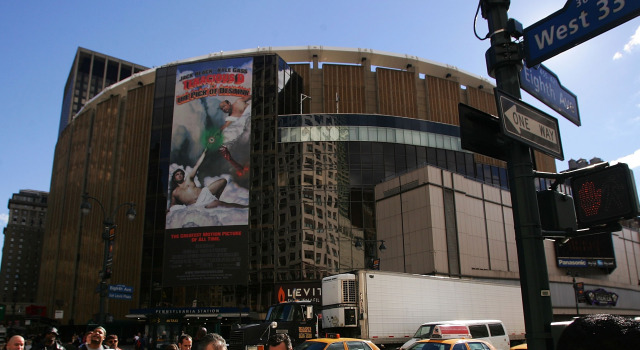 Bruce Ratner and the Nets scored a big win in their quest to move the team to Brooklyn last week when the MTA agreed to slice $80 million in upfront payments for the sale of railyards in Brooklyn. Critics howled that it was a sweetheart deal, but it isn't one that should surprise anyone who has followed the vigorous construction of arenas around the New York City area. Governement has been both partner and enabler of these deals, dangling promises of strong return on investment as justification.
An article in the New York Times calls those promises into serious question. If the Barclays Center gets built, there will be eight stadiums and arenas in the New York City area, with only Madison Square Garden, the Izod Center and Nassau Coliseum having more than two years of operation. That doesn't include MSG's pending major renovations nor does it include the Islanders' hopes of a new arena to replace the Coliseum.
All of these arenas, to differing degrees, rely on the kindness of local government, but their existence creates a competitive situation that is bad for all of them. Excluding the two baseball stadiums and Giants Stadium, there are nearly 100,000 seats that need filling and that's going to be very hard to do on a regular basis, according to University of Michigan professor Mark Rosentraub.
"Five arenas is not going to work," said Rosentraub. "I don't think four works, even in a market as large as New York. There's competition in every direction and there aren't enough events."
Most arena operators say that arenas need to fill 200 dates on the calender to generate an operating surplus, but with only the Garden hosting more than one sports franchise that's going to be nearly impossible. There are only so many bands that can fill arenas, and they'll be able to negotiate great deals as the arenas fight each other for their business. Circuses, ice capades and wrestling only bring in so much business, which leaves the operators struggling.
These competitive arrangements have made for losing situations in other cities with multiple arenas, and the ones in New York are already struggling to create revenue. That, in turn, is bad for the governements who issued bonds and need to service the debt on them. Especially when the Izod Center may have no permanent tenant to help pay the bonds in a couple of years.
Given these pretty foreseeable concerns, you have to wonder how much thought really went into the decisions by Newark and New York City to subsidize the new arenas for the Devils and Nets.
Josh Alper is a writer living in New York City and is a contributor to FanHouse.com and ProFootballTalk.com in addition to his duties for NBCNewYork.com.
Copyright FREEL - NBC Local Media