A young girl was hit by a 105 mph foul ball at Yankee Stadium during Wednesday's game against the Minnesota Twins, renewing calls for Yankee Stadium to explore extending the safety netting.
It was in the fifth inning that Todd Frazier sharply fouled a ball into the stands along the third baseline, hitting the girl there.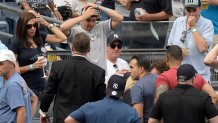 The stadium fell silent as fans rushed to help the child. Frazier was seen crouching down, apparently anguished, and Matt Holliday on base wiped away tears, also obviously distraught.
"I thought of my kids. I have two kids under 3 years old and I just hope she's all right," said Frazier, who flied out later in the at-bat. "I know the dad or whoever it was that was with them was trying their hardest, but the ball's coming at 120 miles an hour at them and the ball's hooking. So it's like if you've never seen a ball like that, which most people in the world haven't, it's very tough."

The young girl was carried out of the stadium as fans and players applauded in support. The game was delayed for several minutes as the emergency responders attended to the child.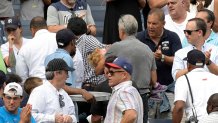 The girl is being treated at a local hospital, according to the Yankees. Manager Joe Girardi said after the game he got a report from team security that she is "doing OK."
The injury sparked calls from the players for more safety netting at the stadium.
Twins players also were distressed, and second baseman Brian Dozier and the Yankees' Matt Holliday had tears as they said prayers at second base.
"We've been trying to get these teams to put nets up," Dozier said. "Number one, you don't bring kids down there. And number two, every stadium needs to have nets. That's it. I don't care about the damn view of the fan or what. It's all about safety. I still have a knot in my stomach."
As to what it would take to get nets up, Dozier responded: "The last resort that we don't ever want to have happen. I'm not going to say it, but you know what I'm talking about."
Speaking through a translator, Twins infielder Eduardo Escobar said, "I just saw blood coming out of this little girl." He said perhaps kids under a certain age be prohibited from seats without protection.
The Yankees have said they are exploring extending the safety net after a child was hit by a broken bat at the stadium in May, and a foul ball hit a fan in July.

Major League Baseball issued recommendations for protecting netting or screens in December 2015, encouraging teams to have it in place between the ends of the dugouts closest to home plate.
"It remains an ongoing discussion in the industry," Commissioner Rob Manfred said at Safeco Field, before Wednesday night's game between Seattle and Texas. "We gave some guidelines two years ago, and what we have done since then is that we have encouraged the individual clubs to engage in a localized process, look at their own stadiums - every stadium's different - and to try to make a good decision about how far the netting should go in order to promote fan safety."
"If you look at what's happened, there has been a continuous focus forward movement in terms of increased netting in stadiums around the leagues and I expect that process will continue this offseason," he said.
The Mets are among a handful of teams in baseball that have already done so: Back in July, they extended their netting beyond the dugouts and all the way down the right- and left-field lines.

As for Wednesday's game, the Yankees beat the Twins 11-3.

Copyright AP - Associated Press