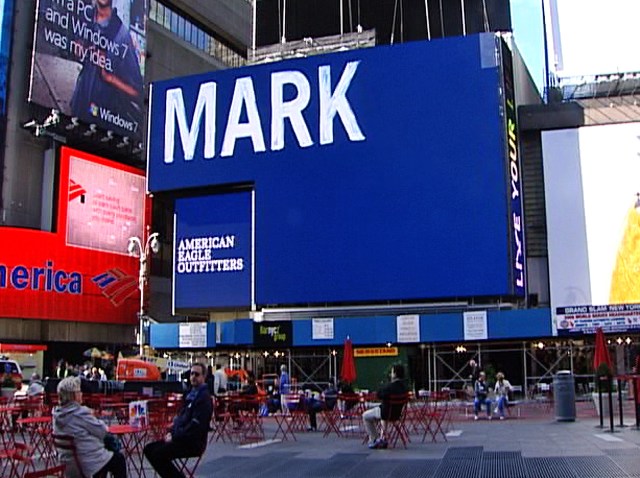 Your 15 seconds of fame may await you on a giant LED screen in Times Square.
Retailer American Eagle Outfitters, Inc. is opening a flagship store at 46th and Broadway on Nov. 19 – and they've got a cool marketing plan to promote the launch.

Customers who make a purchase will be invited to pose in a mini photo studio. Moments later, the photo will be projected onto a 15,000-square foot screen, 25 stories high, for all of Times Square to see.
"In Times Square, it's always about bigger, brighter, louder," said Tim Tompkins of the Times Square Alliance as he counted a score of display screens from his office window.
For tourists, having their mug projected high above one of the most famous places in the world would likely be an once-in-a-lifetime experience.

"In the whole wide world to be on that big a screen in Times Square, that would be the biggest thing ever," said David Lensbaek, a tourist from Denmark.
Another tourist said she would definitely Twitter and Facebook all about it if she got her face on a billboard in Times Square.
And that's precisely what American Eagle says it will be encouraging customers do, chat up their stores and merchandise online.
"This is a bonanza worth millions to American Eagle," said Burt Flickinger III, the managing director of Strategic Resource Group, a New York-based consulting firm.
Social networking sites are becoming part and parcel of marketing strategy and retailers facing the holiday season in a recession-weary economy are looking for any strategy that resonates with consumers.

That's especially important for retailers catering primarily to young tech-in-touch customers -- letting them spread the word in a way advertising agencies may not yet understand. Traditional advertising is going the way of the dinosaur, says New York advertising executive Jerry Della Femina.
"The survivors will be those who have mastered social media," said Della Femina. "