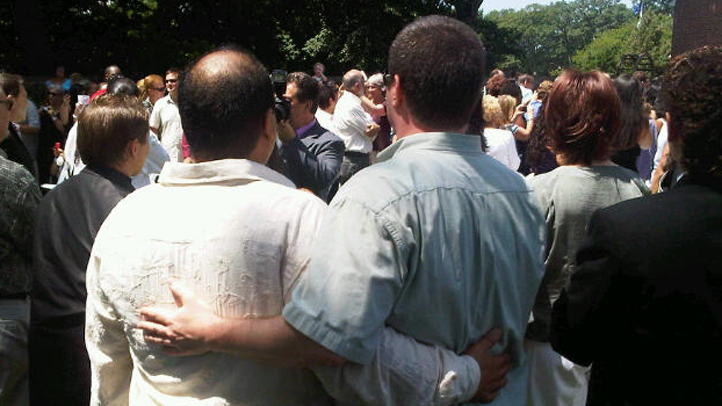 Dozens of same-sex couples took their vows in a mass wedding ceremony in Bethpage, Long Island on Tuesday to mark the legalization of same sex marriage in New York.
Organizers called it the largest mass wedding of its kind in the state.
The couples marched, one by one, into a courtyard of the Carlyle on the Green catering facility, Hundreds of friends and family cheered them on.
Minutes later, they were officially married couples.

"I now declare that you have married one another in the presence of these witnesses," said Beverly Boyarsky, who presided over the ceremony.
"I never thought this day would be possible," said Roland Hoffman of Manorville. He married his long time partner John Hoffmann, with 6-year-old daughter Isabel looking on.
Many of the couples had considered private wedding ceremonies but opted instead for this event, sponsored by the Long Island GLBT Services Network.
For Judith Adessa and partner Sandra Krac, it was a political and a personal statement.
"We're not just one couple. We're many couples," said Krac. "We're a power to be reckoned with."
While more than 30 couples took part in the public ceremony, 20 other couples remained hidden in the crowd, unwilling to come forward to make their union public.
"It just shows how much work we still have to do," said David Kilmnick of the Long Island GLBT Services Network.
The mass wedding was held just a day after the group New Yorkers for Constitutional Freedoms filed a lawsuit hoping to strike down New York's same-sex marriage law.
"Look at my family. What could we be possibly doing wrong?" asked Roland Hoffman.
"It shocks me that there are so many against us just being happy," added Evelyn Tayne, who married her partner of 34 years, Betty Osgood.
Gay advocates said their fight is far from over, vowing to set their sights next on making same sex-marriage legal nationwide.
The state last month joined Connecticut, Iowa, Massachusetts, New Hampshire and Vermont, along with Washington, D.C., when it voted to legalize gay marriage.
Copyright AP - Associated Press