What to Know
Nicholas Cardello, 54, and Kurt English, 52, recreated a photo from a pride march in Washington originally taken 24 years ago
It has gone viral since it was posted to Facebook June 11, with nearly 700 people commenting on the post and another 25,000 sharing it
The men say they are touched by the incredible response to their picture
A couple in their 50s recently recreated a photo of themselves from the LGBT March on Washington more than two decades ago, and a Facebook post showing the striking images stacked atop one another has gone viral.
Nicholas Cardello, 54, and Kurt English, 52, participated in the 1993 march on Washington along with more than 1 million other people and paused on the Mall, near the Washington Monument, to memorialize the moment.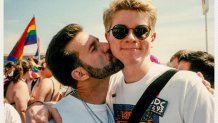 Twenty four years and a few more gray hairs later, the couple stopped in the same spot and made the same pose for a photo during the Equality March for Unity & Pride earlier this month.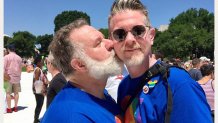 It has gone viral since it was posted to Facebook June 11, with nearly 700 people commenting on the post and another 25,000 sharing it.
"We could never have imaged the incredible response to this that we received. We were deeply touched by people's personal stories and comments from around the world about the challenges that they experience in their personal lives and in their particular cultures," the couple told NBC News. "Many times we have been moved to tears by reading the comments. It was at a suggestion of a friend of ours to recreate the photo 24 years later."
"The youth needs to see that it is possible to find loving partner and that the relationship can last!" they added.
The men have lived in the same home in Florida since 1992. They had a "commitment" ceremony there a year later, then got legally married in Massachusetts in 2008. When gay marriage became legal in their home state in 2015 they got married again in their home, the duo said.
[NATL] Top Entertainment Photos: Best of the American Music Awards, and More