What to Know
The bodies of four people, two of them children, were found at a burning mansion in the wealthy New Jersey community of Colts Neck
Prosecutors say the blaze was intentionally set; father Keith Caneiro was shot and his wife and two children were stabbed, sources say
Keith's brother Paul Caneiro is charged with murder in their deaths; he also is accused of setting fire to his own home
Hundreds of people mourned four members of a New Jersey family on Sunday whose bodies were found at their burning mansion.
The joint funeral in Holmdel was held for Keith Caneiro; his wife, Jennifer, and their two young children, Jesse and Sophia. All were found dead Nov. 20 at their Colts Neck home.
The family issued a statement thanking the community for support and asking for privacy.
"The passing of these four beautiful people was tragic, sudden and incomprehensible," the statement said. "Like you, we are heartbroken."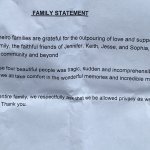 Keith Caneiro's brother, Paul, has been charged with murder and arson. He pleaded not guilty during a court appearance Friday.
Monmouth County prosecutors have called the motive for the slayings "financial." But defense lawyers say they haven't seen any evidence Paul Caneiro was financially strapped.
Keith Caneiro was found shot to death outside the home, while his wife and children were found inside the residence.
A few hours earlier, another blaze occurred at Paul Caneiro's Ocean Township home. He's also charged in that fire.
Top Tri-State News Photos
Copyright AP - Associated Press