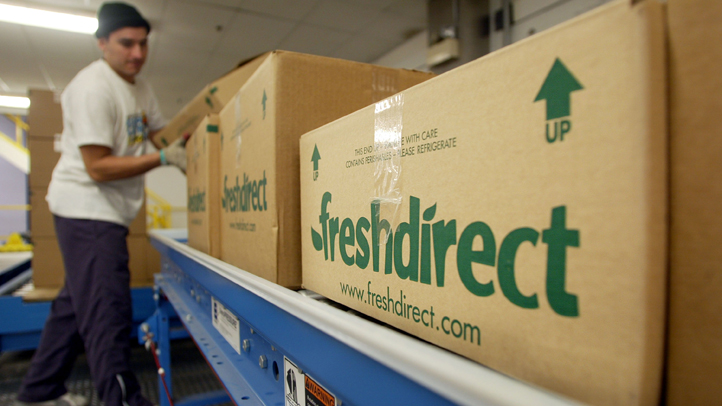 Some Bronx community members are expressing reservations about the plan to bring online grocer FreshDirect to the Harlem River Yards in the South Bronx.
Local residents and group leaders announced Monday they planned to lead a rally against the construction of a new 500,000-square foot facility on a 16-acre parcel in the Mott Haven section of the Bronx.
"The proposed project would bring more heavy diesel truck traffic to our already high asthma-inflicted communities... and fails to guarantee any new jobs, much less living wages, for South Bronx residents," said Bettina Damiani of Good Jobs New York, a local advocacy group that gathers information on economic development projects in New York City.
The rally was scheduled to happen before the Industrial Development Agency's vote Tuesday on a proposed $80 million New York City subsidy package for FreshDirect.
FreshDirect, currently headquartered in Long Island City, Queens, was enticed to a bigger space in the Bronx thanks to an incentive package totaling over $100 million.
New York City officials and business leaders have highlighted the expected jobs creation of the rapidly growing company and the "hundreds of millions of dollars in overall economic activity" it would bring.
Mayor Bloomberg said in a statement last week the move would retain 2,000 existing jobs and create almost 1,000 new jobs and bring an overall economic impact to the city of nearly $255 million.
But opponents said the incentive packages were offered to FreshDirect without public input on concerns over environmental impact and living-wage jobs.
"South Bronx residents demand equitable and environmentally sustainable economic development proposals that are developed democratically and that create jobs at a living wage," Damiana said.
Addressing the concerns Monday, Bronx Borough President Ruben Diaz, Jr. said he, the Bronx Overall Economic Development Corporation and FreshDirect reached a "memorandum of understanding" Monday that includes agreements on local hiring, vendor referrals, expanding FreshDirect services to new Bronx neighborhoods, accepting EBT benefits, and decreasing the company's reliance on fossil fuels through the purchase of alternative fuel vehicles.
FreshDirect was founded in 1999 and serves a customer base of over 100,000 people, according to a statement from the Mayor's office last week. The company's expansion and move to a new Bronx headquarters, slated for 2015, is expected to help expand its service area to regions surrounding New York City.