What to Know
About eight CSX train cars came off the tracks at a rail yard in the Hunts Point section of the Bronx Wednesday morning.
No one was injured in the derailment, and CSX officials said no hazardous materials were spilled.
Amtrak said Northeast Regional and Acela Express service was suspended between NYC and New Rochelle for hours after the derailment
Two of the region's busiest Amtrak lines were hampered for hours Wednesday after a freight train went off the rails in the Bronx.
About eight CSX train cars derailed at the Oak Point rail yard in Hunts Point at about 9:15 a.m., company spokesman Rob Doolittle said in a statement.
No one was hurt and no hazardous materials were spilled in the derailment, Doolittle said. Police said the derailed cars were aboard a 99-car train coming from Fresh Pond in Queens.
CSX workers were assessing the situation and are developing plans to right and re-rail the cars, Doolittle said.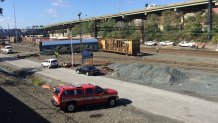 Amtrak suspended service between New York Penn Station and New Rochelle after the derailment, but service resumed at about 12:30 p.m. Passengers should expect delays while train service gets back to normal.
Shortly after the derailment, at least two riders tweeted that their Antrak train was cleared out after the derailment and she and other passengers were asked to transfer to Metro-North.
It's not clear what caused the derailment.
Rafaela Moran was in the area at the time and said everyone in her office heard the derailment.
"It was like an explosion," she said.
It comes less than a week after an NJ Transit train crashed into the century-old Hoboken Terminal, killing one person and injuring more than 100 others.
[NATL] Top News Photos: Pope Visits Japan, and More