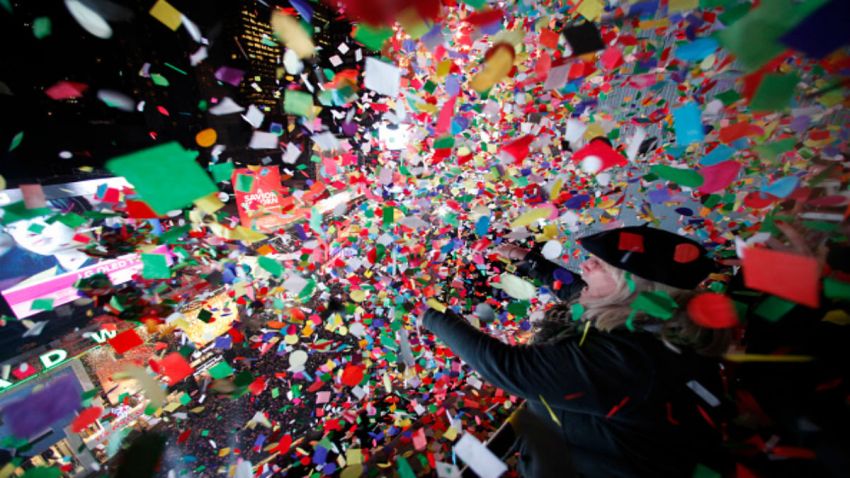 If one of your New Year's resolutions for 2017 is to cut back on spending (you're not alone) why not start when the clock strikes 12? There are plenty of free events going on in New York City and New Jersey on New Year's Eve.

From free entry at bars to family friendly fireworks and midnight fitness parties, here's your guide to celebrating NYE without breaking the bank.
Fireworks at Prospect Park | Family Friendly
The entire family can enjoy a free evening of fireworks and live music at Prospect Park. People can view the fireworks from three locations:
1. Grand Army Plaza
2. Prospect Park's West Drive
3. Along Prospect Park West between Grand Army Plaza & Ninth Street.
The fireworks go off at midnight, but live music begins at 11 p.m. Just a tip: dress warm, bring extra layers (gloves, hats, scarves) and lots of blankets! RSVP and find out more info here.
NYE in Times Square | Family Friendly
Thousands of determined people will take over Times Square on December 31 to watch the ball drop live. If you think you can handle the chaos, get there early in the afternoon or even in the morning to secure a spot. Live performances from pop's biggest stars begin at 6 p.m. Keep in mind there are no public restrooms and bundle up! For more on NYE in Times Square, click here.
NYRR Midnight Run | Family Friendly
Know somebody running in the NYRR Midnight Run at Central Park this year? While runners pay to run, they can bring a guest for free. The 4-mile run begins at midnight, but celebrations start at 10 p.m. with a dance party and face painting. Runners and guests can also opt for the Tavern on the Green NYE package to celebrate with food and drink before, during and after the midnight run. For more info, click here.
Fireworks from the Staten Island Ferry | Family Friendly
So it may not be an official event, but if you hop on the Staten Island Ferry just before midnight, you'll get a spectacular view of fireworks going off in Brooklyn, Manhattan and New Jersey. Dress cozy and warm. Ferry schedules and more here.
Time's Up 19th Annual NYE Bike Ride | Family Friendly
Start your 2017 fitness goals early with an NYE bike ride and outdoor after-party in Central Park. Riders can start biking from three different locations:
1. Williamsburg Bridge (Brooklyn side) at 9:45 p.m.
2. Washington Square Park arch at 10 p.m.
3. Madison Square Park (23rd St. & Broadway, Flatiron side) 10:20 p.m.
The final destination is Belvedere Castle in Central Park. Music, dancing and fireworks will all be free, but participants should bring their own food and drink. If you want to party but don't want to ride, meet at the Belvedere Castle at 11:45 p.m. Details on the event can be found here.
New Year's Eve Watchnight Service | Family Friendly
For a quiet celebration, join the Cathedral Church of Saint John the Divine with a special late-night service. The event runs from 11 p.m. on NYE until 1 a.m. on New Year's Day. The cathedral is located at Amsterdam Avenue and 112th Street. There is also a NYE Concert for Peace prior to the late-night service (7 p.m. - 9 p.m.) with tickets starting at $40. For details on the free NYE late-night service and also on the Concert for Peace, click here.
Zeppelin Hall Biergarten, Jersey City | 21+
It's not easy finding free entry to a bar or club on NYE, but the Biergarten in JC has you covered. The German bar and restaurant has no cover charge, lots of beer, a DJ and dancing to really ring in 2017 with a bang. Hats and noisemakers will also be handed out. Find out more here.