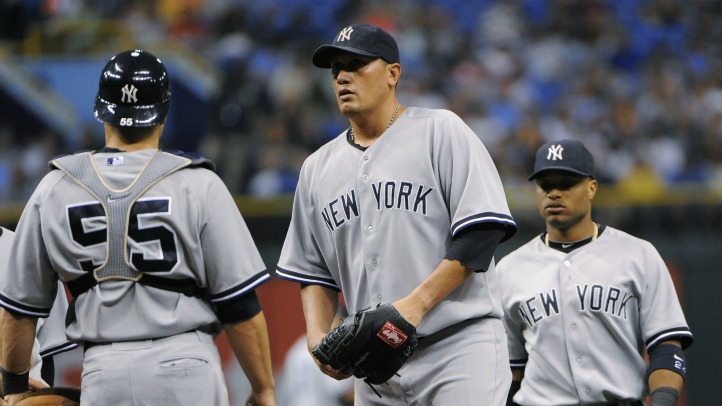 Before Wednesday night's game against the Rays, Freddy Garcia said that he did not think the Yankees did not need to make a deal for starting pitching in order to make the playoffs.
Then he went out and did his best to prove it.
Garcia's plan of attack against the Rays was a dangerous one, but it wound up working out. He put multiple runners on base four different times, yet found a way to escape the danger every single time to help the team to a 4-0 victory.
The fact that he had his strikeout mojo working certainly helped him get the job done. He whiffed eight Rays and got 13 swings and misses, a bit of a deviation from his usual routine of letting the defense help him out and a big reason why he was able to bounce back from last week's debacle in Toronto.
That kind of outing gives Garcia the shine of a veteran pitcher who "just knows how to win." He did a fine job and certainly deserves much credit, but such an honorific ignores the ample help he got in getting out of those jams on Wednesday night.
It ignores the way Boone Logan came out of the bullpen in the seventh with two on and two out to strike out Casey Kotchman. Logan hasn't done that kind of thing often enough this season and Garcia's night looks a lot less impressive if Logan doesn't get the job done.
It also ignores the way Curtis Granderson crashed into the center field fence to rob Evan Longoria with two on and two out in the fifth inning. Granderson does do those kinds of things all the time, so long as the ball isn't using Tampa's roof as a backdrop.
Since we're at it, we should also point out that Garcia's night wouldn't have been worth all that much if Granderson didn't homer off of David Price in the first inning. That's something else he's done plenty of this season, which is why he's been the team's MVP and why center field never comes up on anyone's trade deadline shopping list.
Garcia's outing probably won't stop the Yankees from searching for more help on the mound, but it should help them avoid making a deal for the sake of making a deal. Garcia (and Bartolo Colon, for that matter) don't always look like world beaters on the mound and there's always a little voice saying they can't keep this up, but they are going to be hard to top on the trade market without making a serious blockbuster.
That deal might not be out there and Wednesday night showed us that it might just be okay if it doesn't materialize.
Josh Alper is a writer living in New York City. You can follow him on Twitter and he is also a contributor to Pro Football Talk.
Copyright FREEL - NBC Local Media