What to Know
Some showers and thunderstorms passed through the tri-state area on WorldPride Sunday
The wet weather brought strong wind gusts and left thousands of customers on Long Island and in Connecticut without power
Mainly clear skies are expected Sunday night into Monday. Monday is expected to be sunny, with highs in the low to mid 80s
Some showers and thunderstorms passed through the tri-state area on WorldPride Sunday, leaving thousands of customers in Connecticut and on Long Island without power.
Severe thunderstorm warnings were issued for Suffolk County until 5 p.m., for Dutchess, Ulster and Putnam counties until 2:15 p.m., and for Westchester and Fairfield counties until 2:45 p.m.
The storms brought quarter-sized hail and strong wind gusts and knocked out power in some areas. At the height of the storm, PSEG says 34,000 customers lost power.
In Fairfield County, more than 8,000 customers were affected by power outages. Many drivers had to go without traffic lights and some residents may not have the power back on until Monday afternoon.
The Pride Island festival on Pier 97 in Manhattan was temporarily evacuated due to weather for the second day in a row, but reopened around 4:30 p.m. NYC Pride said.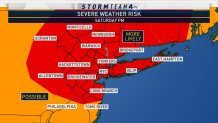 The humidity was expected to drop even further as the day went on. Temperatures were expected to reach the upper 70s and low 80s.
Track the storms using our interactive radar below. Check all the latest severe weather alerts for your neighborhood here.
Mainly clear skies are expected Monday, Storm Team 4 says. Monday is expected to be sunny, with highs in the low to mid 80s.
Thunderstorms rolling through the tri-state area on Saturday forced two Pride events in Manhattan to evacuate temporarily.
The weather on Saturday resulted in delays in Metro-North and LIRR service. A full list of delays is below: