Lavish flower displays have been mysteriously appearing in sidewalk trash cans and on public plazas and statues across Manhattan over the last several months.
At the corner of Bowery and Bond Street one day, a battered metal trash can turned into a vase for a massive spray of pink and red roses and orchids. The Imagine mosaic at Central Park's Strawberry Fields was outlined in a rainbow of flowers in the fall. And the Alice in Wonderland statue was adorned with a bright boa bouquet.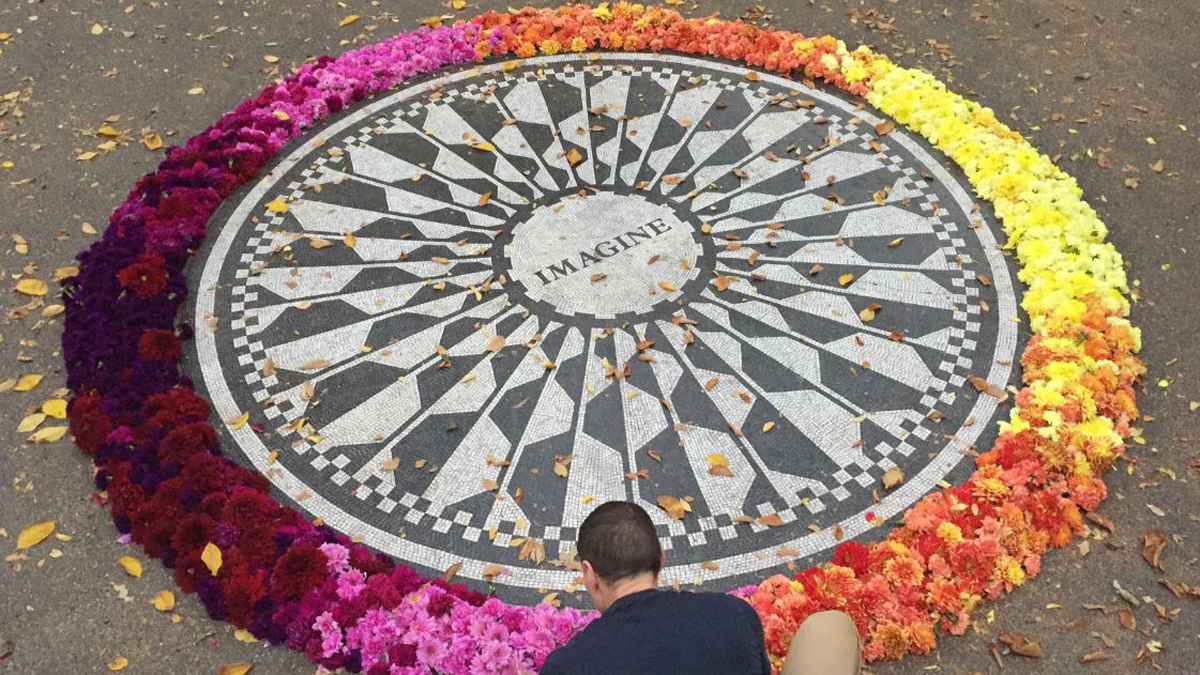 They're all the brainchild of Lewis Miller, a New York City event and floral stylist who was inspired one day last October to "gift flowers to the people of New York City."
"I started flashes wanting to give everyday New Yorkers something gorgeous," Miller told News 4 in an email. "Everyone deserves to feel joy and surprise, similar to when you witness a random act of kindness."
In a blog post detailing that first pop-up display in Central Park last fall, Miller said he and his styling team packed a van with 2,000 flowers and descended on the Imagine mosaic at Strawberry Fields before dawn. They worked in the dark to create a psychedlic halo of day-glo yellow, pink, purple and orange dahlias and carnations. When the sun came up, parks workers appeared.
"We all held our breath and wondered if our 'Flowers for the People' project was about to live and die in under an hour," Miller wrote. "But that was not the case. Outfitted with leaf blowers and a broom, they began to gingerly sweep away the falling leaves around our flowers and gave us their approval and blessing with a quick thumbs up."
A crowd quickly formed, and Miller said he was amazed at the emotional response to the display. The flowers were left there for days, and some enthusiasts rearranged them into the shape of a peace symbol.
Since then, Miller and his team have set up several more of the flower flashes across Manhattan, including in trash cans. Those are very popular, Millers says, but they don't stay intact as long as his other flashes -- people appear to feel more comfortable dismantling the work and taking the flowers home for themselves.
Each installation has a different vibe: "Our Alice in Wonderland installation was romantic, feminine and whimsical. Our trash can flashes are edgier and ephemeral," Miller said.
The flashes vary in scope and scale, but the largest ones can consist of thousands of flowers like roses, dahlias and orchids, which, if produced for a client at Miller's firm, would cost upwards of $10,000.
"We try and use flowers from a previous event when we can. And by doing so, we give the flowers a second life," Miller told News 4.
Sometimes the flowers even go on to be used a third time: after one recent flash, Miller and his team took a lot of the flowers to a Brooklyn-based company called BloomAgainBklyn, a non-profit that redistributes flowers in the form of small arrangments to homebound seniors, local nursing home residents and others in need.
Miller says he plans to continue the flower flashes, writing in his blog, "Keep your eyes peeled New York, these flowers are for you."