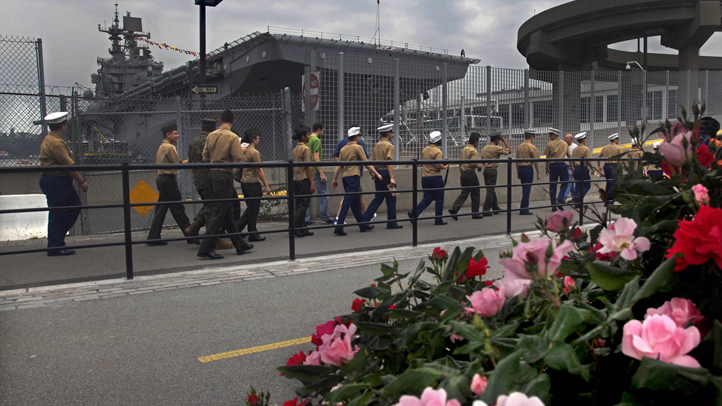 A young Marine in New York City for Fleet Week who was struck and killed by a car while crossing the street early Thursday has been identified as 22-year-old Marine Lance Cpl. Steven Jorgenson.

Jorgenson, who grew up in Corpus Christie, Texas, had been scheduled to participate in a golfing event Thursday afternoon as part of the Fleet Week events. Several of his colleagues withdrew from the outing because they were so disturbed by his death, reports The New York Post.

A Fire Department official says Jorgenson was in uniform when he was hit at 12th Avenue and 49th Street . He and other Marines were returning to their ship, the USS Iwo Jima, docked at a pier on the Hudson River.

The group got out of a cab and proceeded to cross the West Side Highway. Jorgenson was struck and killed by a 2003 silver Acura traveling southbound. None of the other Marines was injured.

The 39-year-old driver of the Acura pulled over one block away and called 911. He then walked back to the scene of the accident and waited for police and emergency personnel to arrive, police said.

Authorities questioned the driver and opted not to file charges.

"It's a tragic event -- a very sad day for the Marine Corps," Colonel Frank Donovan, commander, 24th Marine Expeditionary Unit base at Camp Lejeune, N.C., said at a news briefing. "Our thoughts and prayers are with his family."
Mayor Michael Bloomberg mentioned the accident during an appearance on MSNBC on Thursday morning,.

"Our prayers are with him," he said of the Marine.

The Iwo Jima on Wednesday participated in the "Parade of Ships'' that kicked off the Fleet Week festivities. It's docked near the Intrepid Sea, Air & Space Museum.

Officials say 12th Avenue between 45th and 50th streets was closed after the accident. It reopened around 6 a.m.

Nearly 1,000 Marines are in New York City for the annual six-day Fleet Week festivities.

Donovan said Fleet Week activities would continue despite Thursday's tragedy.

"We ask people of New York to pray for the Marine and the family of the Marine," he said.

Follow Kat Creag on Twitter @katcreag4NY and us @NBCNewYork, and on Facebook/NBCNewYork, and sign up for breaking news SMS alerts on your phone by texting "NYBREAKING" to 639710.
Copyright AP - Associated Press