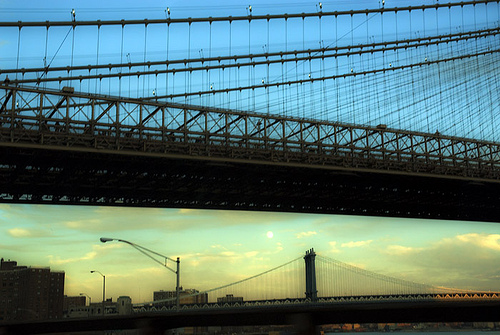 The first six acres of the Brooklyn Bridge Park officially opened today -- receiving a rainy but enthusiastic reception after more than 20 years on the drawing board.

Mayor Bloomberg, Gov. Paterson and other city officials braved the rain today to cut the ribbon on the first phase of the park along Pier 1 in Brooklyn Heights.

The 6 acre stretch of park -- a fraction of the planned 85 acre greenspace -- includes 1300 feet of promenade along the East River and 2.5 acres of lawn space with views of lower Manhattan and the New York harbor. It also boasts a small playground and a tiered viewing deck made from salvaged stone from the Roosevelt Island Bridge.
The Brooklyn Bridge Park Conservancy has been working for more than two decades to develop the 1.3 mile stretch of disused piers along the East River waterfront into what it calls a "a treasured urban oasis."
After dozens of revisions and even more setbacks, the Conservancy plan eventually calls for and 85-acre, $350-million-dollar greensward complete with playgrounds, lawns, beaches, coves, and landscaped areas.

So far, the group says about $231 million of the needed $350 million is available for construction.