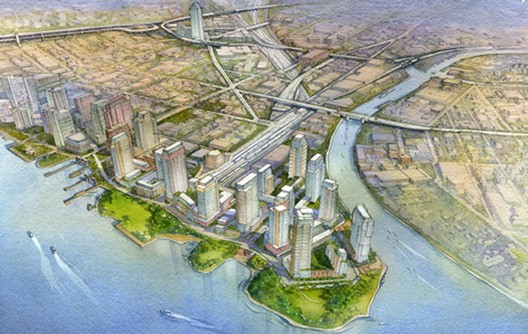 A contract for New York City's largest affordable housing development in nearly 40 years is now up for grabs to the lowest bidder, city officials announced this week.
About 1,000 new housing units are expected to go up in the first phase of the development along the Queens waterfront in Hunter's Point South. When the project is finished, there will be about 5,000 new apartments.
But at least 60 percent of the apartments will be for middle-income families, or people earning $63,000 to $130,000, according to the Department of Housing Preservation and Development.
Adam Friedman, director of the policy group the Pratt Center for Community Development, said that the project can hardly be called "affordable housing" when half of the people who live in Queens won't be able to afford to live there.
"Even that modest amount is beyond the reach of most people in Queens," said Friedman.
He suggested lowering the income requirement to $51,000, which is what most middle-income families in Queens earn.
While the city expects construction companies like Avalon Bay and Gotham, along with the usual affordable housing contractors, to put their hats in the ring, Friedman is hopeful that the plans will change to lower the income requirement.
The Pratt Center is part of a coalition of organizations called Queens for Affordable Housing, which includes the Queens Community House, whose director of community organizeing and development, Anna Dioguardi, said residents wanted more of the units to be allotted for affordable housing. Current plans designate about 40 percent of the units for market-rate prices.
Developers will be able to put in bids through Sept. 1, 2010. A new high school, commercial space, 11 acres of landscaping, a community facility and 144 parking spaces are also part of the plans. City officials estimate that the development will create 4,600 jobs and stir $2 billion in private investment.
"I think people are OK with development as long as it meets the needs of the surrounding community," said Dioguardi.
Officials at HPD, however, stressed the beneficial impact of the project.
"It has been decades since New York has seen a project of this scale with the aim of creating a haven of affordability for our hardworking families – the teachers, health care works, veterans, municipal employees, and first-responders who are the irreplaceable backbone of our city," said Rafael Cestero, Commissioner of the Department of Housing Preservation and Development.
"At Hunter's Point we are not just bringing life to the Queens waterfront, we are building a stronger, sustainable, and more affordable New York for the people who make this the greatest city in the world," he said.