What to Know
Sixteen people were injured when a fire broke out at a high-rise in the Rockaways
Eight of those injured were police officers, but they're expected to be okay
One person was in critical condition and two more were in serious condition
A fire erupted at a high-rise in the Rockaways Friday morning, injuring at least 16 people, including eight police officers, fire officials said.
Two residents were critically injured in the fire and two people were seriously injured, according to fire officials.
Eight police officers were also being treated for smoke inhalation but were expected to be okay, the NYPD said. Video shows an officer being wheeled on a stretcher from the building to an ambulance.
Three firefighters were also suffered minor burns, the FDNY said.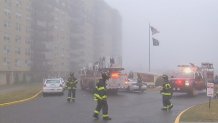 The fire broke out shortly before 11:30 a.m. on the 11th floor of a 13-story residential building overlooking Rockaway Beach in Seaside, according to fire officials.
Ronald Orr was on his terrace on the eighth floor when he smelled smoke coming from above.

"I put a towel by my door to prevent anything from coming in, the smoke. Then I said, 'No, we gotta get out,'" Orr said.
Video from the scene shows dozens of police officers, firefighters and residents outside the Shore Front Parkway building on a foggy and rainy afternoon.
Firefighters had to not only the fire, but fog and wind. They managed to gain entry to the burning apartment by going through another apartment via its balcony.
"We come in and attacked the fire with the wind to our back, rather than trying to go head to head with the wind you see out there today," FDNY Queens Borough Commander Edward Baggott said.
Only one family was displaced by the fire. Baggott, mentioning the fire in the Bronx last month that killed 13 people and displaced dozens of families, said the outcome could have been a lot worse because of the strong wind.
It's not yet known what sparked the blaze.
Top Tri-State News Photos
Copyright AP - Associated Press