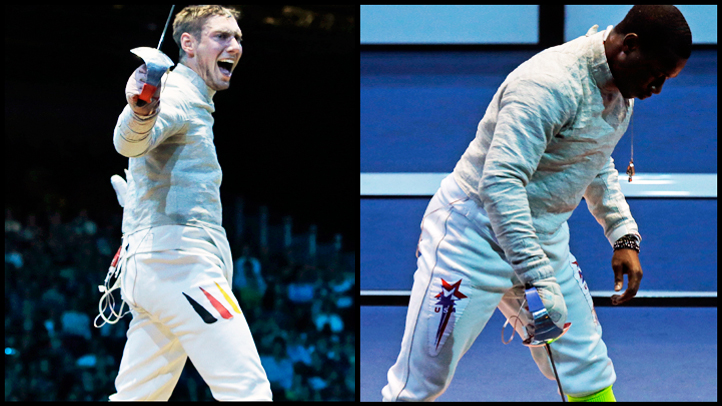 New York fencers Tim Morehouse and Daryl Homer pulled off early upsets in the men's individual saber competition before they were eliminated in the quarter-finals in London.
PHOTOS: Men's Individual Sabre
Beijing team silver medalist Morehouse was the London individual tournament's No. 27 seed, and was not expected to beat Round of 32 opponent Veniamin Reshetnikov the No. 6 seed.

Not only did Morehouse pull the upset, he proceeded to beat Round of 16 opponent Dmitri Lapkes (No. 11 seed) before losing in the quarterfinal to Occhiuzzi.
Bruce Beck Blogs from London: Tim Morehouse and the U.S. Fencing Team

Bronx resident Homer - the No. 18 seed - beat the No. 15 ranked fencer before pulling off most impressive show of mental fortitude so far at the Games.

Tasked with facing No. 2 seed Aleksei Yakimenko - the three-time consecutive European champion - Homer came out firing, ultimately notching a 14-9 lead. Yakimenko fought back, tying the score at 14 before Homer registered the final touch to take the bout.

Though the American would go on to lose in the quarterfinal to Dumitrescu, his performance is a testament to the strength of a U.S. fencing program that has shown impressive young talent thus far.
Fencer Aron Szilagyi of Hungary won the Olympic gold medal in men's individual saber, while Diego Occhiuzzi took silver. Nikolay Kovalev of Russia won the bronze medal match.
Get the top London 2012 Olympic news, including what to watch, results and features on our local athletes here.
Get the latest from NBC 4 New York anytime, anywhere. Follow us on Twitter, Facebook and Google+ . Get our apps here and sign up for email newsletters here. Get breaking news delivered right to your phone -- just text NYBREAKING to 639710. For more info, text HELP. To end, text STOP. Message and data rates may apply.

Copyright AP - Associated Press