Two men were arrested Sunday on various charges linked to the Capitol riot, including the assault of U.S. Capitol Police officer Brian Sicknick who died on Jan. 7, law enforcement announced Monday.
Federal officials charged Julian Elie Khater, 32, of Pennsylvania, and George Pierre Tanios, 39, of West Virginia, for assaulting Sicknick, but did not charge the pair in his death. Khater was arrested disembarking a plane at Newark Airport and Tanios was arrested at his West Virginia home, justice department officials said.
Video obtained by federal investigators shows Khater and Tanios "working together to assault law enforcement officers with an unknown chemical substance by spraying officers directly in the face and eyes," the justice department said Monday.
"Give me that bear s--t," Khater allegedly said to Tanios before he grabbed a canister and sprayed three officers, including Sicknick, according to a search warrant affidavit. The incident was captured by one of the officers' body-worn cameras, court documents say.
Khater and Tanios are charged on nine counts including conspiracy to injure and officer and assault on a federal officer with a dangerous weapon.
The men each made brief court appearances from jail via videoconference on Monday and will remain locked up pending future hearings. A detention hearing was scheduled for Thursday for Tanios.
An email seeking comment was sent to Tanios' lawyer. A person who answered the phone at the office of Khater's lawyer said they had no comment.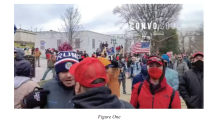 Photos of Khater and Tanios posted by the FBI in attempts to identify the two men involved in the riot prompted a tipster to notify the agency that the two men grew up together in New Jersey, court documents say.
The arrests come more than two months after the death of Sicknick following the violent siege of the U.S. Capitol on Jan. 6. Previously, FBI investigators said they were targeting a single assailant in the death investigate of Sicknick.
Sicknick, 42, was injured "while physically engaging with protesters" and returned to his division office, where he collapsed, according to a Capitol police statement. He was taken to the hospital, where he later died on Jan. 7.
Previously, investigators connected injuries Sicknick sustained during the riot to a blow to the head from a fire extinguisher. The circumstances surrounding his death remain unclear as a final cause of death has not been determined. Officials now believe Sicknick may have ingested a chemical substance — possibly bear spray — that may have contributed to his death, officials have said.
The medical examiner's report on Sicknick's death is incomplete. Capitol Police say they are awaiting toxicology results.
The arrests are the closest federal prosecutors have come to identifying and charging anyone associated with the deaths that happened during and after the riot. Five people died, including a woman who was shot by a police officer inside the Capitol.
This story is developing.
Copyright NBC New York/Associated Press