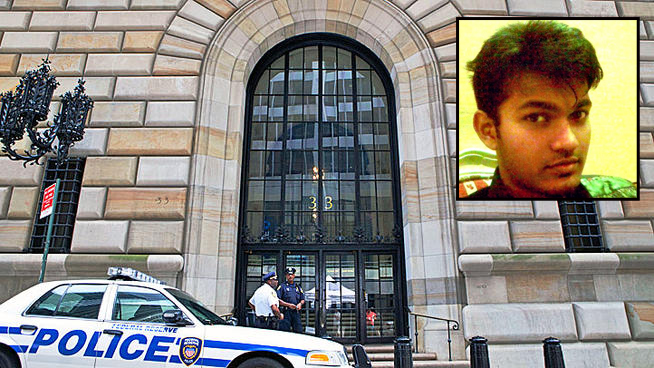 The terror suspect charged in a plot to bomb the Federal Reserve Bank in Lower Manhattan last fall is expected to plead guilty Thursday in Brooklyn federal court.
Quazi Mohammad Nafis is expected to admit he was a supporter of Osama bin Laden and that he had wanted to explode a 1,000-pound truck bomb, according to officials.
FBI agents learned of his efforts to find others to help and set up a sting operation to arrest him last October. Officials said Nafis, who was 21 when he was arrested, came to the U.S. on a student visa from his native Bangladesh and briefly attended school in Missouri before moving to New York City in the spring of 2012.
He is charged with material support for a terrorist organization and attempting to use a weapon of mass destruction. Nafis had also proposed various targeted beyond the Fed building at 33 Liberty St., according to prosecutors.
U.S. Attorney Loretta Lynch has said Nafis was self-radicalized but also might have had help from overseas. She said he posed one of the most serious terror threats to New York since 9/11.
"This defendant came here to build his terror network," she said in October. "It was only through some luck that he did make a connection through law enforcement and that we were then able to pretend to join his group."
Nafis is expected to plead guilty before Chief Judge Carol Bagley Amon in Brooklyn Federal Court. His attorney Heidi Cesare did not return calls Wednesday.
RELATED:
Copyright AP - Associated Press